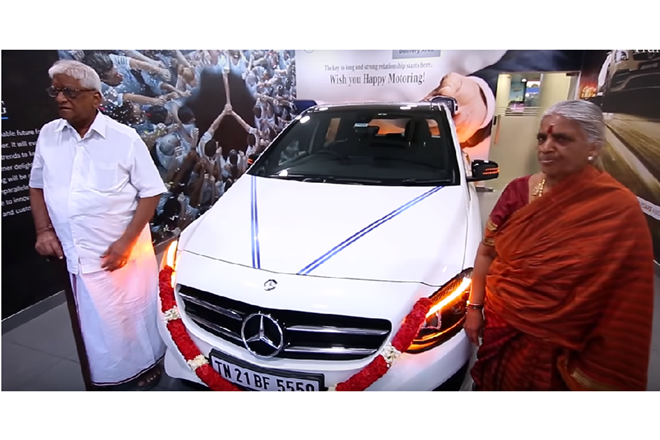 Almost all great forms of technology in the world exist due to a dream someone had at some point in time and it's this pursuit of dreams that drives the passion to own such things including expensive cars. One such example is an 88-year old Indian farmer who recently purchased a brand new Mercedes-Benz B-Class. His latest possession happens to be the car brand of his dreams since childhood. This story is about Devarajan, an Indian farmer from Kanchipuram near Chennai. He saw a Mercedes-Benz for the first time when he was 8 years old and at that time, he didn't know what brand of the car that was. Devarajan decided to buy the three-pointed star logo car and his dream got fulfilled finally after 80 long years.
Watch the inspiring video of Indian farmer buying a Mercedes-Benz B-Class:
Trans Car dealership, the Mercedes-Benz outlet that delivered him the car has uploaded a video on YouTube that shows the process of the car getting delivered along with the inspiring story of Devarajan. The man gives credit to his wife for supporting him throughout and helping him realise his dream. The Mercedes-Benz B-Class is a subcompact luxury MPV that received an update in the year 2015 but hasn't been among the top-selling cars for the German brand in India. However, when it comes to dreams, numbers and statistics are totally irrelevant. Mercedes-Benz B-Class price in India starts at Rs 29.6 lakh (ex-showroom).
Talking further about the car, its new generation model was spied testing a few days back. The spy images of the new B-Class suggest that the MPV will not be dead anytime soon contrary to what some reports on the internet were suggesting in the past. The new 2019 Mercedes-Benz B-Class is expected to make its global debut towards the end of this year. The updated MPV will get minor cosmetic updates with no changes to the powertrain. The new Mercedes-Benz B-Class can be seen as a bigger version of the A-Class but the new model will offer more space on the inside compared to the outgoing model.
More details on the new Mercedes-Benz B-Class expected soon. Meanwhile, a big shoutout to Devarajan for turning his dream into reality and we hope that his story will continue to inspire many more in the years to come.