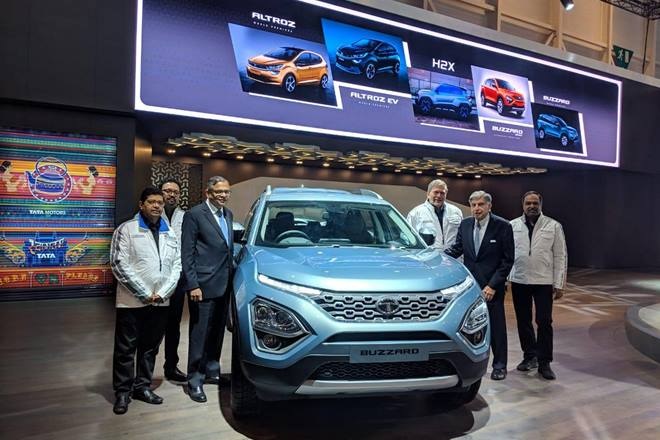 Tata H7X named Cassini: Following the Tata Altroz, the next big thing from Tata Motors in 2019 will be the 7-Seater version of the Harrier that is being called the Buzzard. If you have been following Express Drives you'll know that we had announced that Tata Motors was considering this name for the H7X based on patent filings in India. We had also said that the Tata Buzzard name had been objected in India, which is why when Tata unveiled the car they specified that the Buzzard name would be only for European Markets. This opens the door to the next question, what will the H7X be called in India. Another patent filing around the same date by Tata Motors would indicate that they are considering the name Cassini for the H7X in India. Derived from the Cassini Huygens Sattelite that was developed through a collaboration between the European Space Agency and NASA.  
In the Harrier, Tata Motors gave us a car that we all love but it left us wishing for a bit more. This, in my opinion, was by design, while the Harrier is the pioneer and the brand builder, the upcoming H7X is likely to be everything that we have been waiting for. For one, it will clear the compact SUV segment meaning that Tata will have more money to spend on the interior (that were slightly underwhelming on the Harrier) and on technology that goes into it. While this is all largely speculative at this point, expect to see an actual 4-Wheel drive system on the 7-seater Harrier.  Like most of the mechanical bits on the harrier expect this too to be derived from older generations of Land Rover Vehicles. It is also likely to get an auto box from the get-go, Hyundai's 6-Speed AT Torque Converter seems to the gearbox of choice.
What's more, is the fact that the 2.0-litre FCA-derived will get a power bump with an output of close to 170 hp for the H7X. This should ensure that the H7X is even more lively to drive and have more torque on tap too. If that's not all, the Cassini or the Buzzard is also likely to get a more conclusive version of the Terrain-management-system that too is likely to trickle down through the Land Rover toy box.
In terms of price, expect the H7X to be very very competitive, despite being in the same footprint segment as the Mahindra Alturas G4, the Toyota Fortuner and the Isuzu mu-X, it is likely to be fairly inexpensive. This considering, Tata have saved a lot of money in terms of R&D by shopping for parts for the Harrier. We expect the price to vary between 16 lakh for the base variant going up to Rs 20 lakh. Effectively undercutting the competition by about 5 lakh!