Auto Expo 2018 will see some of the latest concepts and production-ready vehicles that are either going on sale or will be on showcase. While the most important launch of the year seems to be the Maruti Suzuki Swift, there are several other cars that will be at the Auto Expo 2018 which will gather a lot of attention at their respective stands. Tata Motors, for example, will be showcasing its first ever sports car under the banner TaMo. Renault will also bring its electric sports car for visitors to be amazed by at the Auto Expo 2018. In this list, there is also a little hatchback from Hyundai. Been missing from the Indian passenger car market for a long time now, this compact hatchback has been immensely popular and is expected to reclaim the market share that it enjoyed for years. Hence, the following is a list of the most exciting cars that will be on showcase during the Auto Expo 2018:
New Maruti Suzuki Swift at Auto Expo 2018
The most awaited launch of the year will take place at the Auto Expo 2018 when Maruti Suzuki announces the price of the new Swift. The 2018 Maruti Suzuki Swift will come with two engine options – 1.2-litre petrol and 1.3-litre diesel engine. The petrol engine sheds a maximum power of 83 hp and the diesel engine's max power is 75 hp. It will be available in both manual and AMT versions. While it's still a few weeks before the price is announced, but expect the new Maruti Suzuki Swift to be priced about Rs 40,000 above the current model.
New Hyundai Santro at Auto Expo 2018
Hyundai previously announced that it was working on a new small car. While there has not been an official statement on the matter from Hyundai India, it is widely believed that the new small car from the South Korean brand will be the new 2018 Hyundai Santro. It is most likely that the new Hyundai Santro will break cover at the Auto Expo 2018. The new Santro will have Hyundai's popular 'tall boy' stance and will be positioned between Hyundai Eon and Hyundai Grand i10. The new Santro is likely to be powered by a 1.1-litre iRDE that will make about 62 hp of maximum power. The same engine also powered the Santro Xing. Expected to be priced at about Rs 4 lakh, the new Santro will likely look radically different from the previous model.
Tata Tigor Electric Vehicle at Auto Expo 2018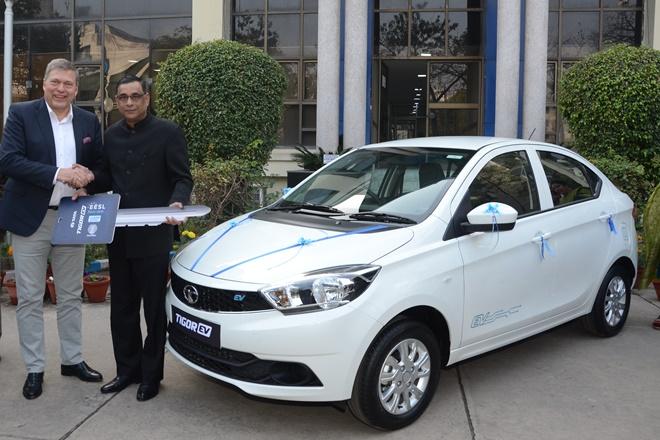 Tata Motors has confirmed to us that the Tigor Electric's full production-ready version will make its debut at the Auto Expo 2018. Unlike the concept which was showcased at previous Auto Expos, this working model will further Tata motors cause in terms of connected mobility the central theme for their exhibit at the Auto Expo 2018. Tata Tigor EV shares its design with the standard Tigor sub-compact sedan, but under the bonnet, the traditional combustion engine has been replaced by a 45 hp electric motor from Electra EV. Tata Tigor EV will have a range of about 120 km. The 2018 Auto Expo will be the Tigor's first public debut.
Tamo Racemo at Auto Expo 2018
Slated to be India's first kit car, Tamo Racemo – a mid-engined two-seater coupe – will make an appearance at the Auto Expo 2018. It is a part of Tata Motors' performance sub-brand Tamo. The brand claims it will accelerate to 100 km/h in six seconds. Racemo is powered by a 1.2-litre turbocharged Revotron petrol aluminium engine that develops 186 hp and 210 Nm of torque. In July, Tata shelved the plans to put Racemo in production, which needed a budget of about Rs 250 crore to have it rolling off the production line, as Tata Motors board decided that the investment should first be put to use in the commercial vehicle segment. Hence, the Racemo may not be launched, but it will be a treat to behold at the Auto Expo 2018.
New Renault Duster at Auto Expo 2018
French automaker Renault introduced the 2018 edition of its popular Duster SUV in November last year and is expected to be showcased at the Auto Expo 2018. Likely to be priced at about Rs 9-13 lakh. The next generation Duster witnesses some significant changes on the inside and out, including revised headlamp section which now gets LED DRLs and a reworked bonnet with a U-shaped line. The cabin of the 2018 Renault Duster will be more upmarket than before. The steering wheel is a bit different and resembles the unit that comes fitted in the Captur. The dashboard has been given a touch of chrome and the touchscreen infotainment system supports Apple CarPlay and Android Auto. The 2018 Renault Duster will be available for sale in both, petrol and diesel engine options. The compact SUV will be offered with automatic and manual transmissions with an optional 4×4 as well.
Also read: New 2018 Maruti Suzuki Swift test drive: Good enough to live up to Swift's legacy?
Auto Expo 2018 EXCLUSIVE: Tigor Electric car from Tata Motors to make its debut: A lot to expect from Tata Motors' first Electric car
Renault Trezor at Auto Expo 2018
At Auto Expo 2018 will also see another shade form what is being called the "connected" spectrum of the Automobile Renault – Trezor Electric Autonomous Concept. The two-seater electric gran tourer made its public debut at the 2016 Paris Motor Show, Renault Trezor is now far in the advanced stages of conceptualisation and is more a show of their R&D than something we can expect on the streets in the near future. Either way, the fibreglass bodies Trezor leaves a lot to aspire, and the Formula E derived motor that powers it produces 350 hp of instant electric power that can help it achieve the 100 km/h mark in less than 8 seconds.
For regular updates on social media, please follow our Facebook and Twitter accounts. Subscribe to our YouTube channel for automotive videos.