Global rubber supply is likely to grow by 6.2% in 2010, according to the crop outlook report by Malaysia-based Association of Natural Rubber Producing Countries (ANRPC).
From 8,821 million tonne in 2009, supply of natural rubber in ANRPC member countries is now anticipated to grow at a rate of 6.2% in 2010, touching 9,367 million tonne, Djoko Said Damardjati, secretary-general, ANRPC said. ANRPC accounts for about 94% of the global supply of natural rubber.
Last year, world rubber supply had shrunk 3.6% to 8.821 million tonne, mainly due to Indonesia s downward revision of stocks. A faster-than-expected global economic recovery and resultant acceleration in natural rubber demand are major drivers of rubber market in short and medium term, Djoko Said Damardjati said, in ANRPCs April Bulletin.
Besides the rising consumption in China, India and Malaysia, a section of the tyre manufacturing industry, which have been shying from coming into the market in March and April, are expected to make a comeback from next week.
They had postponed their purchases in expectation of comfortable availability after the wintering season, the ANRPC Bulletin, that studies the trends in first quarter of 2010, to project the outlook for the whole year, showed.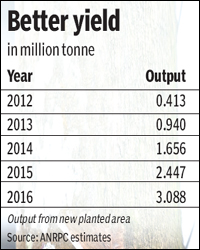 Analysts indicate three key reasons, why the supply may not feed natural rubber demand is that age of existing yielding trees in major producing countries is likely to exert a downward pressure on average yield.
Secondly, higher number of small holdings in rubber limits flexibility to enhance yield by short-term measures and finally, rubber production already suffers from labour shortage.
As global economy gets back on its leg, creation of more opportunities in industrial and tertiary sectors is likely to aggravate the shortage of workers in rubber estates.
However, most analysts believe that in the long-term, there is no cause for pessimism. The net effect of two opposite processes would decide the supply from 2012 onwards.