Thanks to rising global demand, especially in Africa and the European Union, and sustained consumer preference in West Asia, India retained its biggest rice exporter tag with shipments of 10 million tonne (MT) during 2012-13.
India had emerged as the worlds largest exporter of rice in 2011-12 with exports of close to 10 mt while Thailand had exported 6.9 mt and Vietnam had sold 7.8 mt overseas.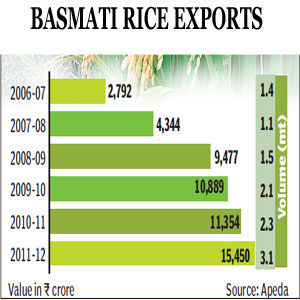 Preliminary official data say India exported 3.5 million tonne aromatic long-grain Basmati rice last fiscal, with average price realisation of $1,000 per tonne.
In case of non-Basmati rice, the country shipped 6.5 mt of grain with an average price realisation of $ 350 per tonne. Exports have been rising steadily since the government lifted a 4-year-long ban on non-Basmati rice exports in September 2011.
Commerce ministry official say the country is set to realise close to R30,000 crore during the last fiscal from rice exports. In 2010-11, the realisation from rice exports was around R22,000 crore.
We are expected to get around R17,000 crore from Basmati rice exports in the last fiscal, a commerce ministry official told FE. In 20111-12, the country shipped Basmati rice worth R15,450 crore.
Exporters of aromatic rice said consumer preference for the PUSA 1121 variety in Iran and other Middle East countries is driving demand.
Exports of Basmati rice are set to rise further during 2013-14 as the new variety of rice 'Pusa Basmati 1509' is introduced in the global market later this year, Vijay Setia, former president, All India Rice Exporters Association and a leading exporter of Basmati rice told.
'Pusa 1509' takes about 115-120 days to mature against 145-150 days for 'Pusa 1121', which constitutes a major chunk of India's Basmati rice exports.
Exporters said the new variety would definitely replace large areas under Pusa 1121, which has more than 70% share in India's Basmati rice exports market. During the trial phase, yield wise, the '1509' variety has given around 6.5 tonne per hectare against around 4.5 and 2.5 tonne reported for the widely grown 1121 and traditional Basmati varieties, respectively.
The last six years have been watershed years as far as India's basmati rice exports go. From a modest R2,792 crore in 2006-07, exports have increased manifold to cross the R17,000-crore mark during the current fiscal.