Wipro Ltd on Tuesday reported a 19% jump in its net profit for the second quarter. Its revenue increased 6% year-on-year.
The company, the countrys third largest software service exporter which also makes soaps, light bulbs and hydraulic equipment, earned a net profit of Rs 1,162 crore for the quarter ended September 30, 2009 against Rs 978 crore earned in the same quarter last year. Its revenue stood at Rs 6,917 crore in Q2 against Rs 6,507 crore a year ago.
The company has forecast a strong third quarter. Looking ahead for the quarter ending December 31, 2009, we expect revenues from our IT Services business to be in the range of $1,092 million to $1,113 million, Azim Premji, chairman, said.
The IT services revenue in dollar terms stood at $1,065.2 million, a sequential growth of 3.2%. In rupee terms, revenue for IT services stood at Rs 4,996 crore up of 3.5% sequentially. Commenting on the deal pipeline, Premji said, Our pipeline is at the highest that we have seen, and order booking is strong. We continue our momentum of winning larger, more complex, end-to-end integrated deals.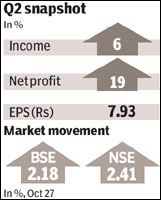 Premji also indicated more stability in volumes and pricing as well as an improving demand environment.
The companys IT services business added 37 new clients during the quarter.