The government has reason to be pleased with the way the economy is recovering and the average Indian is somewhat better off than earlier projected.
As the governments Budget-making exercise entered its last lap on the last working day of January, it has to balance this feel-good factor with worse-than-expected housekeeping numbers for the economy. The final estimate for last fiscal released by Central Statistical Organisation on Friday shows GDP growth was unchanged at 6.7% from the quick estimates.
At the same time, data shows that every Indian is slightly better off than earlier estimates showed. Per capita income grew by 13.3% to Rs 40,141 in 2008-09, based on a new methodology. The old method of income calculation had pegged per capita at Rs 37,490 for 2008-09. CSO has also changed the base year for calculation of GDP to 2004-05 from 1999-2000.
Simultaneously, the governments fiscal deficit up to December climbed to 77% of the Budget estimate to reach Rs 3.09 lakh crore. This is worse than the 51% at the end of December 2008-09. It was Rs 2.18 lakh crore in the same period a year earlier, data released by the controller-general of accounts showed. These will the basis on which the government will prepare its Budget numbers to be tabled in Parliament on February 26.
The fiscal numbers show the effect of the governments paring of taxes and raising of expenditure to spur the economy battling a global slowdown. Almost 71.5% of the total spending of Rs 7 lakh crore in the nine months by the government has been on non-Plan expenditure, including interest payments.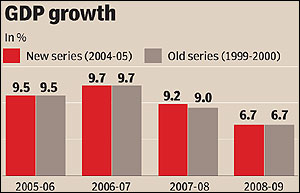 The government has committed itself to restricting the deficit to 6.8% of GDP for 2009-10. The revenue deficit stands at 89% of Budget estimate, compared with almost 55% in the same period last fiscal.