Vijay Mallya's United Spirits (USL) has approved the sale of its UK subsidiary Whyte & Mackay (W&M) to Philppines-based Emperador.
United Spirits (USL) on Friday said it has approved the sale of its UK subsidiary Whyte & Mackay (W&M) to the Philppines-based Emperador for 430 million pounds (about $727 million). The sale process, which saw several suitors including a former chairman of the scotch-maker, in January started addressing competition concerns arising from Diageo's acquisition of a 28.78% stake in USL. The sale includes all the five distilleries owned by W&M and the enterprise value of 430 million pounds ($727 million) includes the company's current debt and its pension benefits.
USL chairman Vijay Mallya had bought W&M for 595 million pounds ($1.2 billion) in 2007, a move which gave USL an access to large scotch reserves for its blended whiskies. Analysts expect the sale to help lower USL debt. USL net debt stood at Rs 7,579 crore in the December quarter, nearly half of which was in the books of its UK holding company.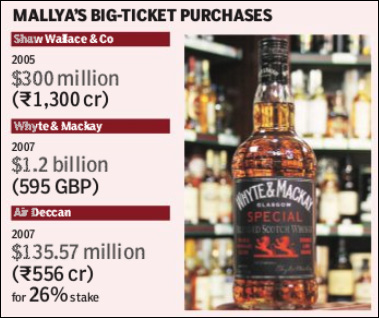 USL said its board on Friday recommended its subsidiary to consider the sale of the entire issued share capital of W&M to Emperador. United Spirits UK has approved the sale and entered into the share sale and purchase agreement with Emperador UK and Emperador, the company said in a communication to stock exchanges. The deal includes an agreement that W&M would supply scotch to USL for three years.
Emperador, owned by the Alliance Global Group, is a large conglomerate in the Philippines with interests across real estate and restaurants. The firm sells one of the world's largest selling brandy labels under the same name.
The sale is subject to necessary Indian and UK regulatory approvals and shareholder approvals, including an approval by the Reserve Bank of India since the sale will result in a significant write down of loan amounts recoverable by the company from its overseas subsidiary, the company said.
The deal's enterprise value or Ebitda multiple of 19.3x is based on W&M's normalised Ebitda estimate for FY14, the company said. This calls into question the earlier value Mallya paid for the business. Over the past few years, the industry has matured and grown, so the valuation is lower, said an analyst. Shareholders, however, have nothing to complain about, with the debt burden coming down in addition to the second open offer by Diageo, he said.
Said an elated Mallya, I am proud of what W&M had achieved under USL ownership. Moreover, I am delighted to be able to pass on W&M into the hands of a new owner who is committed to realising the full potential of the business and whose vision for W&M is aligned with that of USL.
After he took over the scotch whisky firm in 2007, Mallya had swung the distiller's focus towards reducing the bulk spirits business and developing its own brands such as Dalmore and Jura, though analysts believe it has not been very profitable.
The UK Office of Fair Trading in a ruling in November 2013 had concluded that Diageo's takeover of USL will likely lead to higher prices for retailers and consumers in the UK as W&M was one of the country's leading suppliers of blended bottled whisky to supermarkets and retailers. Bell's whisky, a Diageo label and W&M's own-label and branded blended whisky, are competitors in this space and a merger would possibly lead to substantial lessening of competition, it had observed.
We believe W&M is a prized asset with an excellent growth opportunity and its acquisition is in line with our plans to enhance our product portfolio. W&M has a global distribution network in over fifty countries that Emperador brandy will have access to, said Andrew Tan, the chairman of Emperador. Whisky is the second fastest growing spirits segment in the world next to brandy. With this acquisition, Emperador will be exposed to two of the fastest growing spirits segments in the world.
The shares of USL closed at Rs 2,777, up by 0.19% on BSE on Friday. The announcement came after market hours.