The country will be unable to consume or export enough wheat and rice to rein in a record stockpile after another bumper harvest, a failure that means crops risk rotting in fields instead of being sold on world markets to cash in on higher prices.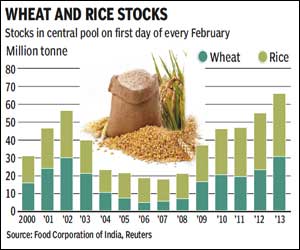 In March, farmers will begin to harvest the sixth consecutive wheat crop expected to exceed demand, and when threshing is over in June the government's combined wheat and rice stocks are set to hit 100 million tonne. That is about a fifth higher than the volume in storage a year ago.
The grain mountain is worth about $30 billion and the government will soon have enough wheat piled up to feed the poor for a year. But thanks to the corruption-plagued and inefficient food distribution and storage system, much will simply end up rotting, and despite a need for income from exports to reduce a record current account deficit.
The food ministry is pressing the government to increase exports, but the creaking transport system means that a large portion of grains will simply not be able to get to ports even with global prices jumping a fifth last year.
The country's grain export facilities are working flat out, but the government will struggle to ship more than 6 million tonne of wheat in 2013 from its stocks, while sales by private exporters will be capped at around 2 million tonne.
If exports reach 8 million tonne in 2013, it would make India one of the world's top 10 exporters. The volume would amount to about a quarter of the 30 million tonne shipped by top exporter, the US.
Wheat also has to compete with booming rice exports for limited capacity on the railroads and in the ports. Like wheat, the rice crop has been abundant and the nation emerged as the world's biggest rice exporter in 2012.
Despite our best efforts, we (India) cannot export to an extent where stocks come down to somewhat manageable levels, said Tejinder Narang, adviser at New Delhi-based trading company Emmsons International.
The government will have to struggle with mammoth stocks. There's no way out.
That means India is unable to capitalise fully on the opportunity to export to international markets, where there is room for more Indian supply to compensate for poor harvests from major producers.
Benchmark Chicago wheat prices jumped 19.2% last year as adverse weather conditions reduced harvests from Australia and Russia, the world's second and third largest exporters. Wheat was the best-performing commodity on the Thomson Reuters-Jefferies CRB index in 2012.
Storage space of 47 million tonne can accommodate less than half of the expected stockpiles, and the rest will sit under tarpaulins in the open.
Wheat consumption and exports from government warehouses will likely account for around 82 million tonne of India's 92.3 million tonne of output in 2013. Additional 2 million tonne of exports by private traders will leave a surplus of around 8 million tonne.
India produced a record 105.31 million tonne of rice last year, while domestic consumption stood at around 90 million tonne.
The government has so far given permission for 4.5 million tonne of wheat exports from state storage in 2012-13. It will likely raise that to 6 million tonne but beyond that the permits may be no more than a paper solution as there is no real capacity to ship more out unless the bureaucrats push for wheat to have priority over rice exports.
A food ministry official, who declined to be identified, said his ministry was pressing the cabinet to allow India to export as much as possible while prices are firm.
India's grain stockpile has grown rapidly over recent years, thanks to near-perfect weather and the government's commitment to buy the entire quantity of wheat and rice brought to market in a bid to support farmers.
Wheat stocks alone will be about 64 million tonne in June, 16 times the state target for the time of year, said two government sources responsible for grain purchases and storage who declined to be identified as they are not authorised to speak to the media.
As India gears up to buy a record 44 million tonne of wheat from the latest harvest, the Food Corporation of India has been building platforms of wood and cement for storage. These are no match for purpose built grains warehouses and silos and leave supplies exposed to rodents and the weather.