The government on Tuesday announced an up to 39% hike in benchmark rates of winter crops, including a nearly 10% increase in the minimum support price (MSP) of wheat, in view of rising input costs, but failed to enthuse either producers or consumers, with economists questioning its stance on a day when the Reserve Bank raised key policy rates again to curb inflation.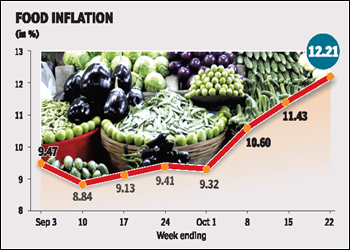 The Cabinet Committee on Economic Affairs has approved a proposal to raise the MSP of wheat by R115 in the marketing season through June 2012 to R1,285 a quintal and those of key pulses by up to R700 a quintal and oilseed by R2,500 to balance the interest of farmers with consumers, with an eye on elections in key wheat-producing states of Uttar Pradesh and Punjab next year. The MSPs of both gram and lentil have been raised to R2,800 per quintal, up by R700 and R550 a quintal, respectively, last year, based on the recommendations of the Commission for Agricultural Costs and Prices.
The support prices for mustard seed and safflower have been hiked to R2,500 per quintal each, up by R650 and R700 per quintal, respectively. The price of barley has been raised by R200 to R980 per quintal.
However, while farmers groups term the hike in MSPs too little, bulk consumers and exporters of wheat products fear losing competitive edge in the global market due to higher raw material costs, and economists warn the substantial hike in MSPs will worsen food inflation apart from straining the governments fiscal rigour.
The rise in MSPs, especially wheat, is paltry and its actually a joke. On one hand, the government has reduced subsidy on fertiliser significantly and, on the other hand, labour costs have gone up like anything. What will the farmer do His cost of production has risen by at least 35% from last year, said Krishan Bir Chaudhary, the president of the Bhartiya Krishak Samaj.We want at least R1,500 a quintal for wheat, and yes, even this price doesnt factor in any profit for the farmers, he added.
But bulk consumers of wheat, such as roller flour mills, said high domestic prices will make supplies more expensive for them. Earlier, we were struggling to stay competitive in the global market. But now, we are out of it, as our wheat prices will be among the most expensive in the world, said Veena Sharma, the joint secretary of the Roller Flour Millers Federation Of India.
Flour millers are already struggling to export the quota allocated to them despite repeated extensions in the deadline due to the lack of a long-term policy.
Economists and analysts, too, have cautioned against flaring up of inflation and soaring food subsidy bill. Its an irony that that government raised the MSPs significantly and, thereby, contributing to inflation on a day when the RBI raised key rates to control inflation, said Madan Sabnavis, the chief economist at CARE Ratings.
We cannot be completely blind to the fact that there is inflationary pressure. While we balance to farmers, we also ensure that inflation does not get out of hand. This is also the very serious concern for us, Law Minister Salman Khurshid said, briefing about the CCEA decision.
The Central bank on Monday raised its key policy rates by 25 basis points, its 13th hike in around 18 months, to suck excess money and ease inflationary pressure.
Food inflation surged to 10.60% for the week ended October 8 from a year earlier on dearer vegetables and staples. Moreover, since the government has to procure wheat at the MSP, its food subsidy bill will rise significantly at a time when it is planning to implement the food security Act, which will widen its subsidised sales of grain to the poor, Sabnavis said. Earlier it was oil subsidy bill, and now the food subsidy bill, which will strain fiscal deficit further, he added.