The wheat procurement drive by government agencies in the current season (2012-13) is all set to register a record 38 million tonnes when the purchase drive is formally concludes by end of this month.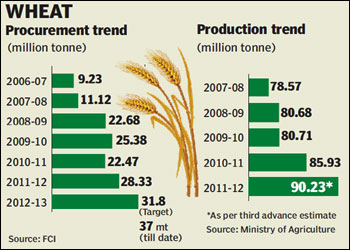 Since the wheat purchased by Food Corporation of India (FCI) and state governments-owned bodies commenced on April 1, more than 37.3 million tonnes had been procured till Monday against last year's total lifting of 28.3 mt, which is an increase of more than 33%.
With procurement drive still on in Uttar Pradesh and Rajasthan, this year's lifting of the grains would set an all-time record, which has been mainly attributed to bumper wheat output in excess of 90 mt this year.
This record purchase by state agencies has boosted the government's wheat stocks in excess of 50 mt at the start of this month, of which more than 1.1 mt had been lying in the mandis because of storage crunch.
With the grain stocks at the government procuring agencies reaching an 'unprecedented level', food minister KV Thomas last week directed immediate evacuation of grains stored at temporary godowns which could be destroyed by monsoon rains.
According to food ministry, more than 6.6 million tonne of wheat is stored 'unscientifically' at make-shift Cover and Plinth (CAP) facilities which could damaged by the rains.
The biggest jump in contribution to the central pool this year had been by Madhya Pradesh where the state civil supplies corporation has purchased close to 8.5 mt of wheat from farmers in the current year against around 5 mt lifted last year.
While Punjab has contributed more than 12.8 mt of wheat to the central pool, Haryana's procurement had been more than 8.6 mt.
Because of the extra R100 per quintal bonus along with the minimum support price (MSP) of R1,285 per quintal and conducive weather condition has pushed up MP's contribution to wheat procurement drive significantly.
We have been providing bonus to wheat farmers since the last few years and we want to become the single biggest contributor of wheat to the central pool in the next few years, chief minister Shivraj Singh Chauhan had recently told FE.
Against only 1.26 mt of wheat procurement last year, Rajasthan has already purchased more than 1.8 mt of grains and procurement is expected to continue for next few days. Uttar Pradesh has already contributed 4.6 mt of wheat against 3.1 mt in the previous year.
Uttar Pradesh is expected to contribute 5 mt of wheat this year to central pool, a FCI official said.
FCI purchases wheat from farmers for allocating it to states for distribution under the targeted public distribution system (TPDS) and maintaining buffer stocks and strategic reserves norms.
The wheat is a winter crops and mainly grown in Punjab, Haryana, Madhya Pradesh, Uttar Pradesh and Rajasthan. The annual domestic consumption of wheat is around 76 mt.