The government is set to surpass its wheat procurement target for 2012-13 in the next few days, as farmers continue to bring in grain to purchase centres, particularly in Madhya Pradesh and Uttar Pradesh.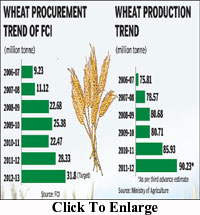 Till Monday, the Food Corporation of India (FCI) and state-owned agencies had purchased wheat in excess of 31.2 mt against 24.5 mt in the same period last year. This is a rise of 27% over the last year. In anticipation of a record wheat output, the government had set a higher target of 31.8 mt against last year's procurement of 28.33 mt.
We are expecting to touch 33 mt by the next week, an FCI official told FE. In Haryana, the procurement drive has virtually come to an end, with the state contributing more than 8.5 mt to the central pool against 6.7 mt last year.
While farmers are still bringing in smaller quantities of wheat to mandis in Punjab, the state has already contributed a record 12.5 mt of grain against 10.8 mt last year. Another big contributor had been Madhya Pradesh where state agencies lifted a record 6.3 mt of wheat from farmers against 4.1 mt in the same period last year. The MP government is aiming to purchase 6.5 mt of wheat during the current rabi marketing season. Last year, it lifted 5 mt. In UP, agencies have purchased 2.1 mt of wheat against 1.6 mt the previous year.
The MP government has offered a bonus of Rs 100 a quintal, over and above the minimum support price (MSP) announced by the centre. To boost production, the government had hiked the MSP for wheat to Rs 1,285 per quintal against last years Rs 1,120.
Rajasthan has also contributed more than 1.2 of wheat to the central pool against 9.4 lakh tonne last year. Gujarat and Uttarkhand have contributed 1.1 lakh tonne and 1.3 lakh tonne, respectively.
Mainly because of an increase in grain procurement, the country's stocks held with FCI and state-owned agencies crossed an all-time record of 71 mt at the start of this month.