The countrys wheat procurement drive for the 2012-13 rabi marketing season seems to have picked up pace with close to a million tonne of the grain purchased from farmers on Thursday.
As per the latest data, wheat procurement has crossed 23.7 million tonne (mt) against around 20 mt reported during the same period last year. This is an increase of more than 18% from the last year. FCI officials say the procurement would further pick up momentum in Punjab and Haryana in the coming week.
In anticipation of a bumper wheat output estimated at 90.2 mt, the government has set a record procurement target of close to 32 mt against a lifting of 28.33 mt last year.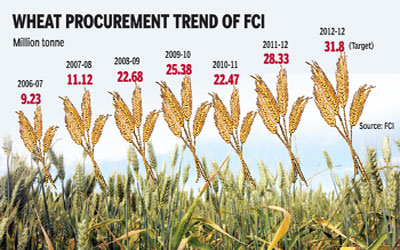 This year there is an expectation of bumper wheat purchase in Punjab and Madhya Pradesh, an FCI official told FE.
Till Thursday, FCI and state government-owned agencies purchased more than 10.2 mt of wheat from farmers in Punjab against 9.6 mt reported in the same period last year. In Haryana, more than 7.4 mt of wheat has been purchased against 6.8 mt last year.
Madhya Pradesh government this year is aiming at purchasing a record 6.5 mt of wheat during the current rabi marketing season. The state government lifted 5 mt in the last fiscal. Till now, more than 4.1 mt of the grain has been purchased against 3.1 mt reported during same period last year.
Madhya Pradesh government is taking up the procurement of wheat aggressively by offering R100-a-quintal bonus. This is over and above the minimum support price (MSP) announced by the central government. In a bid to boost production, the government hiked MSP for wheat to R1,285 per quintal against last years R1,120.
In 2010-11 crop year, when the country saw a record 85.93 mt of wheat production, 28.33 mt was procured from farmers. Agriculture minister Sharad Pawar, while releasing the third advance estimate for wheat production, had recently predicted a record wheat output in excess of 90 mt during 2012-13.
Recently, after state food ministers meeting, Punjab set a target of 10.8 mt of wheat procurement, while Haryana and Madhya Pradesh expect to lift 7 mt and 6.5 mt, respectively.
According to the latest figures, FCI has more than 30 mt of wheat stock in excess of the requirement under the targeted public distribution system (TPDS). FCI purchases wheat from farmers for allocating it to states for distribution under TPDS and also for maintaining buffer stocks and strategic reserves norms. Madhya Pradesh, through decentralised procurement, undertakes the procurement activities on behalf of FCI.