The wheat procurement drive by Central agencies such as Food Corporation of India (FCI) and state government-owned agencies during the current marketing season (2012-13) is set for a record with total purchase by these agencies already exceeding the target set for the year.
Till Tuesday, FCI and the state agencies have lifted 33.63 million tonne (mt) of wheat from farmers since the procurement commenced on April 1, against this years target of 31.8 mt.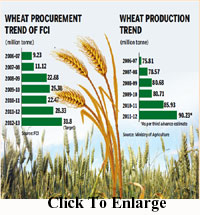 The massive procurement has been helped by a bumper wheat output of 90 mt for the current year.
With farmers in Madhya Pradesh and Rajasthan still bringing in grain to various mandis, the wheat procurement is set to cross 34 mt during the current year. During 2011-12, the government purchased 28.33 mt of wheat which was also a new record.
While Punjab has contributed more than 12.75 mt of wheat to the central pool, Haryana's procurement had been to the tune of 8.6 mt.
The extra R100 per quintal bonus along with the minimum support price (MSP) of R1,285 per quintal and conducive weather conditions pushed up Madhya Pradesh's contribution to wheat procurement drive significantly.
As a part of the decentralised procurement drive undertaken on behalf of FCI, MP civil supplies corporation has already purchased 7.5 mt of wheat against the last year's procurement of close to 5 mt. The procurement drive is expected to continue for a week or so as more farmers have brought in more than 8.7 mt of wheat to various procurement centres in the state.
Due to short supply of jute bag, our procurement drive is behind schedule, an official of MP civil supplies corporation told FE.
We have been providing bonus to wheat farmers since the last few years and we want to become the single-biggest contributor of wheat to the central pool in the next few years, chief minister Shivraj Singh Chauhan recently told FE.
Another key grower, Rajasthan, has contributed 1.4 mt of wheat to the central pool against 1.3 mt contributed last year.
FCI purchases wheat from farmers for allocating it to states for distribution under the targeted public distribution system (TPDS) and maintaining buffer stocks and strategic reserves norms.
Mainly because of increase in grains procurement, the country's stocks held with FCI and state government-owned procuring agencies crossed all-time record of 71 mt at the start of this month.
The stocks are expected to reach 75 mt by June 1, a food ministry official said.