Wheat prices continue to be stable across the country over the last few months, mainly on account of a bumper output and record procurement by the government.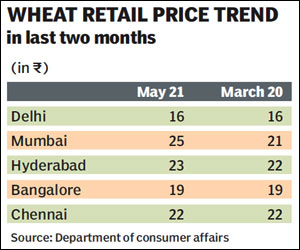 With stocks of around 40 million tonne lying with the Food Corporation of India (FCI) and this year's output touching 90 mt, the prices are expected to stay in range, say traders. In North India, the wholesale wheat prices are hovering around Rs 1,300 per quintal, just above this year's minimum support price (MSP) of Rs 1,285 in Punjab, Haryana and UP.
According to the department of consumer affairs data, the retail wheat price in Delhi has remained stable at Rs 16 a kg. With the exception of Mumbai, most major cities -- Hyderabad, Bangalore, Chennai and Kolkata -- have seen little movement in the retail prices in the last two months.
Higher stocks with FCI and state agencies always keep the market prices under control, said a food ministry official. Meanwhile, wheat futures prices on Tuesday declined further by Rs 8 per quintal as traders reduced their positions following reports of record grain output. However, speculation that the government may allow export of 2-3 mt of wheat halted the slide.
At the National Commodity and Derivatives Exchange, the wheat for delivery in June traded Rs 8, or 0.68%, lower at Rs 1,164 per quintal. The wheat for delivery in July declined by Rs 7, or 0.59%, to Rs 1,184 per quintal.
Wheat procurement by FCI is expected to cross the 2012-13 target of 31.8 mt during the next few days as, by Tuesday, the government agencies had purchased 31.6 mt from farmers across the country. FE had reported that in anticipation of a record wheat output, in excess of 90 mt this year, the government had earlier set a higher target of 31.8 mt. Last year, 28.33 mt of wheat was lifted. We expect to touch 33 mt during the next one week, said an FCI official. Stocks held with FCI and state procuring agencies crossed an all-time record of 71 mt at the start of this month. The stocks are expected to reach 75 mt by June 1, said a food ministry official.