Industrialisation and commercialisation of water is gaining momentum in the country. Globally, it is a $400 billion industry. In India, it is estimated to be a Rs 54,000-crore multi-pronged industry with different sectors and stakeholders.
Water offers diverse business opportunities in water utilities, project development, project financing, plant building, engineering and designing, consultancy, research and development, conservation, processing, transportation, distribution, conservation, treatment of waste water, recycling, pollution monitoring, purification, sewage and sludge treatment, pipes, fittings, valves, instrumentation, process control, rainwater harvesting and several others, says Sunil Ghorawat, managing director of EA Water Private Ltd.
With large-scale funding by the government under the Jawaharlal Nehru National Urban Renewal Mission (JNNURM) and the Urban Infrastructure Development for Small Scale and Medium Towns ( UIDSSMT), and investment by Indian and multinational corporate houses, the spending in the water sector is set to double in five years.
More than 60% of the Rs 1 lakh crore under JNNRUM is for water and waste water management in 63 major cities. While Rs 20,000 crore under UIDSSMT is for water in the small towns. All the 650 municipalities and municipal corporations have massive investment plans for improving their water supply and sewerage systems, H Subramanaiam, vice-president of EA Water said.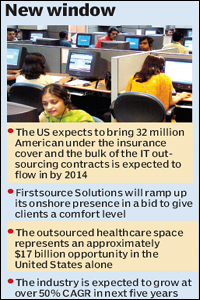 The corporate sector has already invested close to Rs 10,000 crore on water supply, and waste water treatment, irrigation and on technology and equipment for them.
Sea water desalination, both large-scale for municipal water supply and small-scale projects for captive use by corporate houses, are becoming popular. Over Rs 5,000 crore are to be spent on this sector in the coming four to five years.
High literacy, better living standard and health consciousness has made India the 10th largest packaged drinking water industry with a combined turnover of over Rs 3,000 crore to Rs 4,000 crore. In spite of the mandatory Bureau of Indian Standards certification, it is a highly fragmented and disorganized business.
Hindustan Lever, and several others are into domestic drinking water purification business. Of late, several small-scale companies have sprang up with reverse osmosis technology for domestic drinking water supply.
Indian corporate houses like Tata and Jindal are already into municipal water supplyTata in Jamshedpur and Jindal in Raipur. Reliance is looking for major water supply projects besides undertaking projects for its special economic zones and for captive corporate use.
Several multinational companies like GE, Siemens, Nalco, Grundfos, KSB, Endress & Hauser have set up manufacturing bases in India. Besides these, there are over 20 foreign companies providing technology, equipment and consultancy services to the Indian water sector.
The buoyant Indian economy is leaving its mark on the water market which is providing significant opportunities with sizeable investments in both government and private sectors, Subramaniam said.
As an indication of the fast pace of industrialisation of the water sector, he said a water expo being organised by EA Water in Chennai in the first week of January 2010 will have 300 exhibitors from 25 countries showcasing their capabilities, technology, product and services.