French telecom major Vivendi is likely to pick 26% stake in Reliance Communications (RComm) for Rs 16,000 crore. Vivendi is a media conglomerate with telecom operations in France, Morocco and Brazil. It has been in talks with RComm for a month and currently discussions are now at an advanced stage. The deal is likely to be announced in the next four to six weeks, said a source close to the development.
Vivendi would then have to make open offer to buy a further 20% from other shareholders as per Indian regulations. Global firms like AT&T, South Africa's MTN Group and Abu Dhabi's Etisalat were other contenders to buy RComm stakes.
Vivendis 2010 business objectives include gaining market share by investing in content and network. It also is focusing on enhancing and exploring opportunities to enter fast growing telecom regions.
RComm is now busy repairing its balance sheet. It currently has a debt of about Rs 33,000 crore post the payment of 3G licences. With the company agreeing to demerge its tower arm, Reliance Infratel, for Rs 50,000 crore to GTL Infra, in a combination of stock and equity, the companys debt will be reduced by 50%. RComm has an over stretched balance sheet. After 3G payments, its debt to equity ratio was close to 4. After demerging its tower business, its debt to equity ratio will likely be around 2.3 times, said an analyst with a multinational bank. Equity dilution of 26% will lead to Ebitda dilution to the extent of 15-18% for the company. After 3G auctions, the second largest telecom company in India needs an international partner.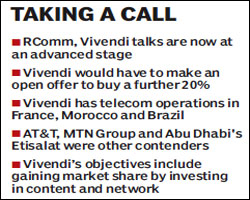 While Airtel has Bharti, Vodafone itself has international expertise, Tata partnered with Japanese major NTT Docomo. Idea Cellular and Aircel have Axiata and Maxis as their international partners respectively. While the deal with GTL Infra is expected to bring down RComs liability to Rs 15,000 crore, its 26% stake buy by Vivendi will make RCom a debt free company. The Vivendi stake buy will render RCom a debt free company with assets worth Rs 80,000 crore, the source added.