Shipping minister GK Vasan has sought tax concessions for seafarers from the finance ministry to get a level playing field vis-a-vis other transport sectors, particularly aviation. The main demand sent as a Budget wish list is to change the method of ascertaining the non-resident Indian (NRI) status of seafarers on Indian flagged foreign-bound ships.
The current practice of calculating a seafarer's income tax is to exclude the number of days he spends on Indian coasts from his stay outside the country even though the ship is destined for overseas. This is in contrast with the practice in the aviation sector, where the crew member of a foreign-going aircraft is considered to be out of India the moment he leaves the airport.
The difference in treatment of the two sectors is more stark when the carrier goes overseas after connecting two domestic ports or airports. For example, if a ship goes from Chennai port to Tuticorin port on the southeast cost in two days and then sails further to the Gulf, the two days would be omitted from the non-resident stay of the person. But if a pilot flies from Chennai to Tuticorin and finally to London, the time spent between the first two places will be added to his non-resident stay.
The issue is important for tax purpose as an NRI, one who resides outside India for at least 182 days in a year, does not have to pay taxes on foreign income. But if the individual spends even one hour less than 182 days in the country, his entire income during the year, whether foreign or domestic, will be taxed in India.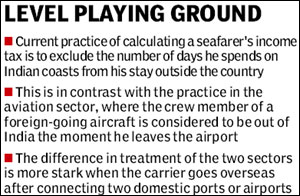 The NRI status depends on the physical presence of the person and even hours matter in this calculation. If an individual spends even one hour in a day in India, it would be counted as spending one day in the country, E&Y Partner (Tax) Amitabh Singh told FE.
This is the most important demand from us as omission of days spent on domestic coast leads to higher income tax for seafarers. Relaxation on this front will help promote the sector, which is high on the agenda of the government, director-general of shipping SB Agnihotri said.