The swanky new integrated terminal at the Lal Bahadur Shastri Airport at Varanasi is all set for a formal inauguration on August 3 by Union minister for civil aviation Praful Patel through a remote control device, in New Delhi.
Alongwith four other airports in different parts of the country, Thiruvanathapuram, Shillong and Gagan sattelite navigation system in Bangalore, Varanasi Airport will be will be formally inaugurated while the foundation stone for the Bhubaneswar airport will also be laid through remote control in the same event.
Built at a cost of 94 crore by Lanco Infratech, the infrastructure arm of the Hyderabad-based Lanco Group, the new integrated terminal building at Varanasi will cater to both domestic and international passengers and has come up on 26,000 sq mts area adjacent to the present airport building. While it is capable of handling 4 lakh annual movement at present, post modernisation it will be capable of handling 800 passengers per hour.
Speaking to FE, airport director Varanasi SK Siddh said the structure is equipped with all modern passenger amenities such as central air conditioning system, four escalators, five lifts and would have two aerobridges, walkways; in-line baggage screening for check-in, etc.
The modernisation of Varanasi Airport is part of Airport Authority of Indias (AAI) plan to upgrade 35 non-metro airports with a total investment of Rs 7,000 crore. Upgrading the Varanasi Airport was important as the holy city of Varanasi (or Benaras as it more commonly known), has always been an important tourist destination for both Hindus and Buddhists. It is also an important link to the Buddhist circuit chain and a lot of international tourists come to Varanasi Airport.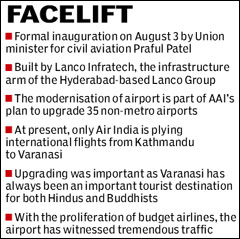 With the proliferation of budget airlines, the airport has witnessed tremendous traffic growth in recent years. In 2009-10, the airport handled 3.36 lakh passengers, up 17.5% from 2.86 lakh passengers in 2008-09.
At present, only Air India is plying international flights from Kathmandu to Varanasi while Thai Airways and Mihin Lanka are in talks to finalise the schedule of the flights. Mihin Lanka is expected to commence flights from Colombo to Varanasi from August onwards itself while Thai Airways will start Bangkok-Varanasi flights from September, Siddh informed.
It may be mentioned that the airport modernisation work for Varanasi was given to Lanco Infratech in 2007 end and was supposed to be completed in 14 months. However, glitches delayed the work and the airport is finally ready to be thrown open to the public.