The Export-Import Bank of the US (Exim Bank) has approved financing of $1.1 billion to National Aviation Company of India Ltd (Nacil) to support financing of acquisition of the planned 68 Boeing airplanes.
This is the third phase of financing from the Exim Bank, which had earlier approved $1.2 billion in 2007 and $548.8 million in 2008 to support the purchase of Boeing aircraft. Out of the 68 aircraft, 35 have already been delivered to the airline, which includes 18 B737-800s and 17 B700s, an Air India spokesperson told FE. The latest round of financing will support the sale of Boeing B777-200LRs and B777-300ERs to be operated by Air India and B737-800s to be operated by Air India Charters, the Exim Bank said.
The 68 aircraft fleet includes 27, 787 Dreamliners, which are facing a delay in delivery. The transaction represents the second partial conversions of two Exim Bank preliminary commitments to final commitments. The Bank's board approved the final commitments in June 2009. The Bank is guaranteeing loans extended by JP Morgan Chase & Co, a statement said.
This support has enabled Air India to raise finances for acquiring latest technology aircraft at competitive rates of interest compared to commercial financing, Jadhav said. Air India is one of the biggest customers of Exim Bank, whose chairman and president Fred P Hochberg was present during the ceremony along with Nacil chairman and managing director Arvind Jadhav, and JPMorgan Chase & Co (New York) head of global structured trade finance Astar Saleh. The joint secretary and financial adviser to the civil aviation ministry, Bharat Bhusan was also present.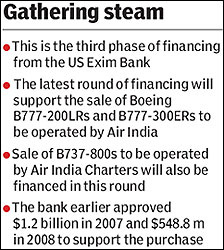 The fast-growing Indian market continues to offer enormous opportunities for US exporters in many sectors, including transportation, Hochberg said. Out of the 111 aircraft that the airline plans to induct in its fleet by 2011, 68 are Boeing and 43 are Airbus aircraft. Post-acquisition, the airline's fleet strength will touch 140 after phasing out some of its old aircraft. The airline spokesperson said that out of the 43 Airbus aircraft, 36 have already been delivered.
Air India plans to procure 85% of its loan from the US Exim Bank for acquiring 68 aircraft at a total cost of $11.5 billion while for the rest 15% it is in talks with several commercial banks to finance it. The last financing of around $550 million was financed by Standard Chartered Bank with a guarantee from the Exim Bank of the US.