Coming to the rescue of three loss-making industrial clusters, Haryana industries department has urged the Centre to upgrade these under the Industrial Infrastructure Upgradation Scheme (IIUS).
The clusters areAmbala Scientific Instruments cluster, Faridabad auto component cluster and Panipat carpet cluster. TL Satyaprakash, director, Haryana industries and commerce informed FE that the Centre has already approved the project and sanction is likely to come by March. The reason for rejuvenating is to make these clusters competitive through collaboration by upgrading the technology and making it available for use by all through the common facility centers. These clusters have been running into losses and there has been no value-addition happening. Production can get a fillip by providing them latest facilities.
Besides this, five more clusters of Manesar-Gurgaon (leather), Gurgaon (garments), Bahadurgarh (footwear), Ambala (electrical appliances) and Jagadhari (utensils) will be taken up for upgradation under schemes of the ministry of MSMEs. Around Rs 15-20 crore will be required for each cluster. As per Census Report, 38 clusters were identified in Haryana, having 7.468 units having Rs 1,049.91 crore fixed assets and Rs 7,177.73 crore output, providing employment to 52,171 persons.
Grand Thornton is assisting the industries department in taking forward the project for three clusters. The annual growth of Panipat cluster has been negative (-2%) over 2005 to 2009. Indias global share in tufted carpets is 8.5% and Panipat carpet cluster is ranked fifth in global exports. The key challenges are long product development time, long lead time, 10% yarn wastage, limited length of carpets, low labour productivity (each artisan produces about 1 mt per day whereas globally with mechanisation the productivity is 3-4 meters per hour) and cluster is into price based competition not differentiation based (designs and branding). The cluster demands technology of robot tufting to be deployed and a sample room for all. Funds proposed to be used for this cluster under IIUS amounts to Rs 63 crore.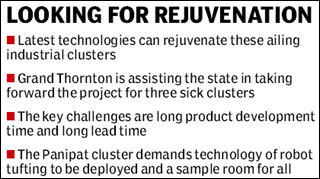 The Ambala Scientific Instruments cluster comprises of 800-1,000 units with around 15,000 employees. Its key products are student microscopes, glassware and laboratory instruments. In microscopes India's export share is 0.3% with negative growth of -34% (2008-09), in glassware the cluster's share is 1.2% with growth of negative (-4%). Puneet Gupta, president of the cluster told FE, Since the manufacturing takes place manually the margins are depleting. From 100% earlier now the manufacturers get less than 10% and we are fast losing out to the Chinese products. The IIUS was introduced in the cluster about seven years back but nothing was taken up further. Now the state government is once again pushing the case under the IIUS.