Software exporter Patni Computer Systems has said it is witnessing an increase in deals in the $100-300 million range on the back of its micro-vertical strategy. In the strategy, 150-250 top executives come together to define IT solutions like applications platform, hardware, core business processes, and framework for governance. Surjit Singh, CFO, said some of these deals could materialise in three to four quarters as the pipeline looks healthy and demand is picking up.
The company has announced a five-year, $200-million agreement for providing end-to-end policy administration services for Universal American Corp.
We are looking at increased fixed price contracts, so we expect the pricing to be stable, Singh said. He added the firm was looking at organic as well the inorganic route to scale up in three years. We are evaluating two-three companies in Europe and Asia Pacific for acquisition to fill up our portfolio gap. Our sweet spot would be companies with revenue of $75 million to $250 million," he said. Patni has $500 million in cash, which would be used to fund the acquisitions.
We did rationalisation of costs during the downturn and the lack of human resource supply did impact this quarter. Now, with demand picking up, we are focusing on extending our supply side. We expect the second half of the year to be good, Singh added.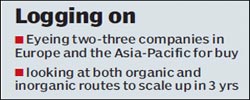 The firm gave a hike of 12% to offshore employees. Wages for onsite employees was hiked 3%, impacting margins 1.5-2%, during the quarter ended March 2010.