After successfully getting clear buyers for four out of 11 factories of the Uttar Pradesh State Sugar Corporation (UPSSCL) that were put forward for disinvestment, the Mayawati government has now embarked onto the next stage to disinvest those six factories which did not get a good response in the last round.
Of these six mills, three had received single bids and the remaining 3 mills had not been able to match up to the state governments expected value.
The UPSSCL has invited Expression of Interest cum Request for Qualification for sale of each of the 6 units of UPSSCL via slump sale of assets under the Swiss Challenge Method (SCM).
This two stage competitive bidding process under SCM has been termed as Fresh Bidding Process.
According to officials of the sugar corporation, the government is inviting bids to challenge the price quoted earlier. Of the six mills, Bijnor factory received a bid of Rs 81.80 crore, Bulandshahr factory received a bid of Rs 29.75, Khadda got a bid of Rs 22.05 crore, Rohankalan got a bid of Rs 50.40 crores, Saharanpur of Rs 35.85 crore and Sakhotitanda of Rs 43.15 crore.
Bids are invited for challenging these original financial bids from the bidders who would be qualified as per the EOI cum RFQ. The last date for submitting the EOI cum RFQ document is August 12 and the original highest bidder under the original bidding process shall be entitled to Right of first refusal wherein, it can match the highest financial bid received in the fresh bidding process, said the official, requesting anonymity.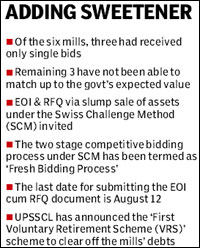 It may be mentioned that the sugar mills that received bids more than the four sugar mills that have found clean buyers are Siswabazar, Jarwal Road, Chandpur and Amroha. While the Indian Potash Ltd (IPL) has successfully bid for the first two mills, Chandpur has gone to PBS and Amroha to Wave Industries.
In fact, after completing the bid process, the UPSSCL has now embarked onto the next stage of disinvestment in the sugar sector and announced the First Voluntary Retirement Scheme (VRS) scheme to clear off the mills debts and pass them to the new buyer sans any liabilities.