In a strong reversal of its own progressive e-procurement policy, which was to put an effective check on mafia and criminal elements in tender and contract activities and usher in an era of technology for establishing transparency and credibility in government deals, the Mayawati government on Thursday reversed its January 14, 2008, order and authorised individual departments to take a decision in awarding government contracts.
It may be mentioned that the 2008 order had directed seven departments in the state to implement e-procurement scheme under the National e-Governance Plan on a pilot process, which would then be followed by the other departments.
Superseding the earlier order with a new order forthwith, Thursdays order states that the e-procurement process has been cancelled and the new arrangement would be to authorise individual departments to take a decision on their own based on merit.
The seven departments that were put on the pilot in the first phase were PWD, irrigation, industry, medical and health departments, all corporations of IT and electronic department, industry directorate and all the externally-aided projects supported by the World Bank and the duration of the project was to be from February, 1, 2008 to September 30, 2008. That decision had been taken by the state Cabinet and was presided over by the Uttar Pradesh chief minister Mayawati.
According to sources, the sudden cancellation of the entire process is a sad indicator, especially as UP was one of the first few states that had started implementing it. The governments main agenda of steering in transparency, which had also been hailed by the World Bank, stands to lose out and would give wrong signals against the government.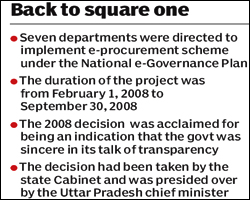 While transparency will be the first victim of this step in a state which is already not very well known for it, the other major drawbacks of this decision will be that the states mordernisation and technical upgradation plans through e-governance will be severely hit. In short, it is a regressive step and would encourage mafia elements, said an expert on e-governance. The 2008 decision of the state government was acclaimed for being an indication that the government was sincere in its talk of transparency and the age of mafia elements ruling the roost over government contracts was set to end.