The government is planning to tighten the bidding norms for ultra mega power projects (UMPPs) to prevent developers from evading penal charges for delays. The power ministry is set to make key changes in the performance guarantee norms for UMPP developers with this objective, according to official sources.
Developers are required to pay liquidated damages in case of delays on their part in implementing UMPPs. However, vague wording in contractual provisions provides a perfect escape route to developers to evade payment of liquidated damages. This could be done by invoking clauses like force majeure, which provides for reprieve on matters beyond ones control.
According to sources, the ministry has hired US-based KL Gates and Indias Fox & Mandal to suggest the necessary changes in bidding norms.
Meanwhile, the government has asked Power Finance Corporation (PFC), the nodal agency for supervising preparations for the award of UMPPs, to go ahead with its plan to issue requests for qualification (RFQs) for the two upcoming UMPPsAkaltara in Chhattisgarh and Bedabahal in Orissabased on the existing model tender document, pending agreement over how the norms are to be revised.
The government was supposed to incorporate suggestions received from the legal consultants into the existing model tender documents for the UMPPs.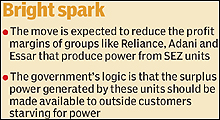 However, the decision had to be deferred as the law firms differed over some issues at a recent meeting of the empowered group of ministers on UMPPs.
The ministerial panel has also asked the Planning Commission, the department of legal affairs and the department of economic affairs to give their comments on the issue by the month-end. It also asked PFC to undertake consultations at its level with various stakeholders, including prospective bidders of future UMPPs over the changes required in the bidding documents.