UltraTech Cement, an Aditya Birla Group company, on Thursday received board approval to acquire Dubai-based ETA Star Cement for an enterprise value of Rs 1,700 crore. The acquisition will give UltraTech direct access to markets in West Asia and Bangladesh. The company, however, did not specify how much stake it would buy nor the cost.
UltraTech, which is set to become Indias biggest cement producer with 49 million tonne output after it gets regulatory approval to absorb the cement business of a group firm, said it would take management control of ETA Star.
The acquisition is in line with our long-term strategy of expanding our global presence across businesses and is consistent with our vision of taking India to the world, Kumar Mangalam Birla, chairman of Aditya Birla Group, said in a statement.
ETA Stars manufacturing facilities include a 2.3 million tonne a year clinker plant and 2.1 million tonne grinding plant, both in the United Arab Emirates, a 0.4-million-tonne grinding plant in Bahrain and a 0.5-million-tonne grinding plant in Bangladesh.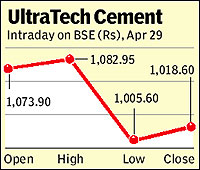 UltraTech said the transaction was likely to be completed by the end of Q1 FY 2011. The company has been awaiting court approval to take over the cement operations of Grasim Industries.
With regard to the outlook for the current year, UltraTech said a significant capacity addition during the last financial year with the possible addition of around 30 mtpa in the year ending March 2011 may lead to a surplus scenario. Capacity utilisation is expected to be around 80%. These factors are likely toput pressure on prices.
Meanwhile, UltraTech reported a dip of 26.15% in net profit to Rs 228.54 crore for the fourth quarter ended March 31, 2010 against Rs 309.46 crore in the corresponding quarter last year. Net profit during the quarter was lower due to fall in prices in the southern region where UltraTech holds 27% market share, Jagdish Bajaj, executive president, finance, UltraTech told FE. Moreover, the companys domestic and export realisation was also lower impacting its profitability during the quarter.
UltraTechs net sales during the fourth quarter stood at Rs 1,909.35 crore, up 2.65% as compared to Rs 1,860.13 crore in Q4 FY09. Reacting to the fall in the companys quarterly profits, UltraTechs shares on Thursday slipped 5.19% to close at Rs 1,018.60 on the Bombay Stock Exchange. The companys net profit for the full year ended March 31, 2010 grew 12% to Rs 1,093 crore from Rs 977 crore last year.