With prices sliding globally, investors may like to have a fresh look at gold ETFs, which enjoy many advantages over the metal in physical form
For gold investors, this years Akshay Tritiya may be somewhat cheerful as gold prices have fallen to a year-and-half low of less than R28,000 per 10 gram and the decline is expected to be sharper in the coming months. Not just the yellow metal, even silver witnessed a steep fall last week to close at R48,900 per kg.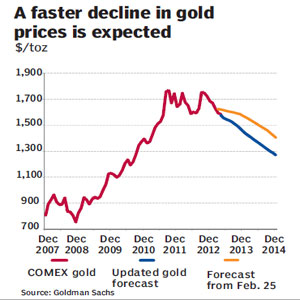 In the last 10 years, gold has given the best returns among the various asset classes. But, analysts say, the bull run may weaken now as the US economy is recovering and a few central banks may sell their gold reserves. Exchange-traded funds with gold holdings are already seeing outflows. A research note by Goldman Sachs says the fall in prices could end up being faster and larger than the forecast as aggregate speculative net long positions across COMEX futures and gold ETFs remain near record high.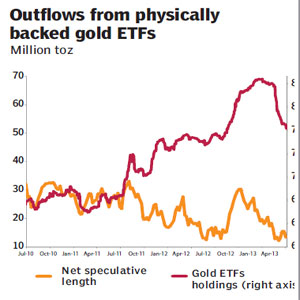 Goldman Sachs one-year forecast for gold is $1,390 per troy ounce; for six months, it is $1,490 per troy ounce; and in the very near time-frame, for the next three months, it is $1,530 per troy ounce. In the fourth quarter of 2012, the actual price of gold was $1,719 per troy ounce. In the long term 2017 and beyond the Goldman Sachs forecast remains at $1,200 per troy ounce. It also says that over that horizon, the US real rates will stabilise and risks to US inflation will be more symmetrical.
The Goldman Sachs report also underlines that the decline in holdings of gold ETFs globally has been significantly faster than expected. Should the month-long decline in gold ETF holdings extend at its current pace, this would present downside risk to our ETF gold holding path and, in turn, our gold price forecast, the report underlines.
Indian households have a penchant for gold as the metal has provided the best returns among all financial instruments during a period of high inflation. Apart from high real returns, it is also the most liquid asset. According to the World Gold Council, in the last decade, gold has given a compounded annual return of nearly 20%.
Indians have always preferred the yellow metal as a source of investment and, currently, around 18,000-24,000 tonne of gold are held by investors in the physical form. But now investors are also looking at alternative ways of investing in the yellow metal in the form of gold exchange-traded funds and gold funds-of-fund.
Asset management companies that float gold exchange-traded funds, which are open-ended gold ETFs, invest in physical gold and the returns are benchmarked on the real returns on investment in physical gold, subject to tracking errors.
These days, retail investors prefer to invest in the e-paper as it has no storage costs and highly liquid. On the other hand, holding physical gold valued at more than R50 lakh attracts wealth tax.
All fund houses allocate one unit of gold ETF for every one gram of gold except Quantum Gold ETF where it is one unit
of ETF for half a gram of gold. The growing popularity of ETFs can be seen from the asset under management of mutual fund companies. From one ETF with less than R100 crore in AUM six years ago, there are now 14 gold ETF schemes with a total AUM of R11,648 crore in March 2013. But it is the tip of the iceberg compared with global players.
While an investor needs to have a demat account to invest in gold ETFs, given the lower numbers of investors having such an account, fund houses are also launching fund-of-funds where one doesn't need to have a demat account. Fund-of-funds invest in gold ETFs and analysts say they will act as a strong catalyst towards volume growth of gold ETFs in India. An investor will have to pay an exit load if he wants to go for redemption before one year in FoFs.
If one redeems the investments before a certain period which differs for different funds one has to pay a penalty of up to 2% of the fund value. Analysts, however, say the exit load would not really be a disadvantage compared with physical holdings as an investors have to pay a hefty markup when they buy gold jewellery or the precious metal in other forms.
Also, ETFs fall cheap for retail investors as one does not have to pay service charges that a jeweller or a bank will charge for selling gold coins or bars. Moreover, fund houses have the negotiating power in the wholesale market where they buy gold. The savings made in the price differential are passed on to the investors. Also, unlike gold in the physical form, there are no purity issues in gold ETFsb.