The government has catalysed investements worth R1,11,000 crore in the textile sector in the three years through 2011-12 by offering a subsidy of R9,000 crore under the Technology Upgradation Fund Scheme (TUFS), a senior government official said on Tuesday.
The government expects to attract investments worth R1,51,000 crore through the scheme in the current Plan period, the official said. The Budget 2013-14 announced the continuation of the TUFS during the 12th Plan period through 2017 with a subsidy allocation of R11,952 crore.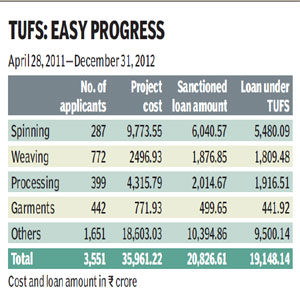 The government mainly provides interest subsidy against loans to units, capital subsidy and limited cushion against exchange rate fluctuation for investing in new technology. The TUFS has leveraged investments of R2,43,721 crore since April 1999, when it was introduced to make available funds to the the textile industry for upgrading technology at existing units as well as to set up new units with state-of-the-art facilities so that its viability and competitiveness in the domestic as well as international markets would enhance.
Despite a cash crunch in the overall industry, the countrys spinning capacity rose by 6.11 million spindles to 48.15 million spindles in the three years through 2011-12, partly due to the help provided under the scheme, he added. Consequently, the employment in the spinning sector also increased to 9,44,000 in 2011-12 from 8,92,000 three year ago, said the official.
However, the government has been planning to tweak TUFS to shift focus from the spinning segment to the more labour-intensive processing, weaving and garments sectors, aimed at boosting inclusive growth.
Under the proposed structure, the allocation to the spinning sector through TUFS would be capped at 30% and for others, the sectoral caps are not required. This is because investments in sectors other than spinning have been meagre. The capital-intensive spinning sector traditionally accounts for around half the total committed investments under TUFS and grabs 50% of the governments subsidy allocation.
The proposal to shift focus to the weaving, processing and garments sector comes amid mounting concerns about the ability of these labour-intensive sectors, which mainly comprise small and medium-sized units, to compete on a global level, especially against top player China, due to the lack of a massive scale. Moreover, since these sectors employ millions, they are a crucial driver of inclusive growth and hence needs support.