This year will have a different training procedure for mid-sized IT companies, courtesy the talent crunch and shrinking margins in their balance sheets. Every mid cap has a new strategy to train the fresh engineering graduates. Bangalore-based MphasiS, a unit of Hewlett-Packard, plans to almost double its training duration from three months to six months. Hexaware Technologies has divided its training batch into four groups for each quarter, and each will have a different joining date. NIIT Technologies has an extra effort on non-technical and soft skills this time. To maintain costs while grooming these freshers, these firms have started offering a lower salary package during the training period to young engineers that join not from the best of engineering colleges. The stipend paid during this period is approximately 30% lower than the actual salary package.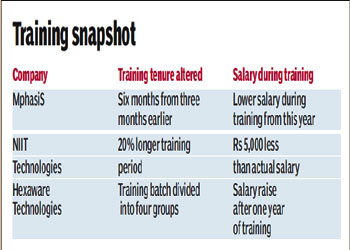 In the current scenario, the tier I college engineering talent goes to the top IT companies and mid caps are left with engineers who need to be trained longer to be made employable. A look at the statistics: In 2012 batch, 8,00,000 engineers are expected to pass out. The broad requirement of the IT industry is 2,50,000-3,00,000 engineers a year. Out of these, about 1,50,000 are from 300 top colleges. There are 3,500 engineering colleges in the country. In sum total, there is huge talent shortage in the market.
On top of this, the situation of mid-sized companies is not improving. Margins are shrinking, deals are going to bigger competitors and slowdown is affecting smaller IT players the most. Human resource cost is fairly significant for the mid-market in the $70 billion IT industry as they get engineers from tier II-III colleges.
Take the case of MphasiS which started training its batch last week. Says Usha Subramanian, vice-president and headtechnical and domain learning, MphasiS, Starting this year, we have extended our training period by a few weeks. It will now be five and a half to six months. Earlier, we used to train for 14-16 weeks at the upper limit and 12 weeks was the average. We want to bring in competent hands on experience during training this year. In this extended period, MphasiS will include a training module called info tech infra library (ITIL) this year in fresher training. We will include the concept of blended learning right at the beginning as we want to bring in the aspect of domain training at the entry level, she adds.
Usha divides the freshers that join MphasiS into two groupscore and non-core engineers. Almost 70% of the talent that comes to the company is non-core and 30% is core. Core comprises those students who have computer science and IT as their background at the undergraduate level. The fundamental training is more for the non-core group.
On the salary front, MphasiS will have a separate salary during training period because the training will be longer. A separate salary will be given during training and once they join the job- they will be paid higher, she says. Though companies deny to share the salary difference, they agree that they are paying lower during the training period.
Amit Bansal, CEO at PurpleLeap, an Educomp and Pearson joint venture, clarifies that ideally a mid-sized IT company would pay R25,000 per month as actual salary and R15,000 as stipend, but this could vary from company to company. Starting salary at top IT companies is R3,00,000-plus. Whereas mid-sized companies usually pay between R2,00,000-3,00,000.
Likewise, Hexaware Technologies has adopted a new technique this year by dividing the training batch into four groups. HR experts feel that by this method, companies can get students trained as per their capacity and if businesses are not in a position to absorb these engineers at the same time, this is a good strategy. Deependra Chumble, chief people officer, Hexaware Technologies says, We train approximately 600-700 freshers a year. We used to train them together earlier, but now we are dividing it into four batches. Once they are ready, they can join immediately. It is giving us good time to train and even the infrastructure is utilised in a better way. There are quarterly batches now, which have different joining dates. While the companys training period is one year, it has increased its classroom training to two months now, from one and a half months earlier. Salary for one year which includes training is different. And after a year, they are given an appraisal. Most of our students are from tier II and tier III colleges, he adds.
Mid-sized IT companies are realising that these engineers need to be trained on skills other than technical as well. Rosita, chief people officer, NIIT Technologies feels that non technical and soft skill training is becoming very important for engineering graduates. Our training period has gone up by 20% since last year. We now train for 2-3 months. We have included non-technical issues and soft skills. Agreeing with the peers, she adds, We do have a different stipend during training which is R5,000-6,000 lesser. Training is a huge investment for the company as we also hire external training institutes.
On the other hand, big companies like HCL Technologies want to reduce their training period and want employees to be billable as soon as possible. Naveen Narayanan, global head, talent acquisition, HCL Technologies says, We currently have a six month training period once the engineer joins us. But we want to decrease the training period and want to bring employees closer to deployment. We want to get them to do live projects quickly. We are attempting to go back to a three month training period.
HCL Technologies has students joining from tier II-III colleges and has customised training programmes for them which are longer. One shoe does not fit all, when it comes to training of engineers. Engineers hired from tier II colleges need extra certifications and more soft skills training which we pay attention to, feels Narayanan.
Bansal from PurpleLeap scans the scenario that the IT industry has faced over the years, In the last five to six years, the billable stage of the mid-sized IT companies has gone upto nine months for fresh engineering graduates. In the last 10 years, the training period has increased by four times. As a result, companies have differentiated salary and do not give the usual corporate salary during the training period. They usually do not have a competitive training environment, he concludes aptly.