This has resulted in 40-55% hike in cigarette prices in phases over the last two years.
Heres something to chew on. While hefty hikes in taxes over the last several years and an active campaign against smoking have led to flattish growth in the sale of cigarettes, other tobacco products continue to be grossly under-taxed and their consumption is rising alarmingly.
While roughly half of the retail price of cigarettes is due to taxes, other tobacco products like bidis, chewing tobacco, khaini, etc, the use of which are equally or even more harmful to health than cigarettes, are taxed at very low levels or are virtually out of the tax net.
According to Tobacco Institute of India (TII), while the share of legal cigarettes in total tobacco consumption in the country has declined from 21% in 1981-81 to 12% at present, overall tobacco consumption in the country has risen by 42% during the same period (see table). Thus, the objectives of both revenue enhancement and tobacco control have been defeated, Syed Mahmood Ahmad, director, TII told FE.
Ahmad said the sharp duty increases in the last two Union Budgets, aggregating to more than 40%, and the high and increasing rate of state value-added tax have served to subdue the demand for legal cigarettes.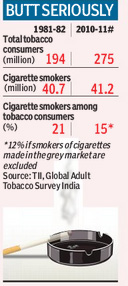 The Centre had hiked excise duty on cigarettes by 22% in 2012-13 and 18% last fiscal with several state governments including Rajasthan and Gujarat hiking the VAT rates. This has resulted in 40-55% hike in cigarette prices in phases over the last two years.
According to TII, due to the high taxation regime, not only has the legal cigarette industrys sales volume dropped by around 9% in 2013-14, excise revenue during the year grew by less than 2%.
In India, cigarettes account for only 15% of the total tobacco consumption while the government collects 85% of its annual revenue of around R28,000 crore in excise and state taxes from tobacco and allied products from cigarettes.
Industry sources said illegal tax-evaded cigarettes now account for as much as 19% of the total industry, resulting in an annual revenue loss of R6,000 crore to the national exchequer.
On a per kg basis, cigarette taxes are 47 times higher than tax on other tobacco products, TII has noted.
Meanwhile, health minister Harsh Vardhan in a letter to finance minister Arun Jaitley has drawn attention to the countrys bidi industry that continues to be unregulated and enjoys several exemptions. The bidi industry has grown in size and magnitude, whereas the plight of the rollers has consistently deteriorated. There is an urgent need to therefore regulate the industry by removing the exemption on tax given to bidi manufacturers producing less than 2 million bidis and redefine taxation points, Vardhan said.
According to health ministry estimates, the absolute number of male smokers (bidi and cigarettes) in India has risen from 83 million to 105 million in the last decade.