With the Reserve Bank of India having signalled higher rates and moderate liquidity, both companies and individuals will soon have to pay more for their loans. While bankers say there is still time before loans become costlier, they hint at interest rates going up, given that liquidity could be in short supply. In fact, the shortage of money is likely to prompt banks to up deposit rates as short-term money becomes more expensive in the wake of increasing demand for credit. Big lenders like State Bank of India (SBI) are already going into a huddle, soon after the central bank increased key policy rates on Tuesday, pushing up the repo rate to 5.75% and the reverse repo rate to 4.5%.
HDFC Bank managing director Aditya Puri said, There will be no immediate increase in interest rates but there will be an increase and its probably not far away. We have seen good growth in demand for corporate loans and in our case these have grown faster than retail loans. Added OP Bhatt, chairman, SBI, I personally believe there is likely to be some impact on the deposit rates, though not immediately. It would be followed by a revision in lending rates later on. Going forward, as credit growth picks up, I see further tightening of liquidity into the system. Our asset-liability committee will meet later this evening to take stock of the situation. It the bank is likely to soon raise deposit and lending rates by 25 bps, sources said.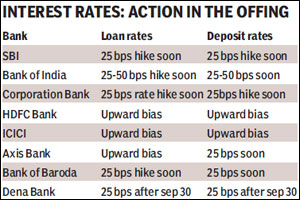 Interestingly, Corporation Bank which undertook a rise in deposit rates by 25 bps last month across certain maturities now plans to implement the hike across all maturities. JM Garg, CMD, Corporation Bank said, We believe interest rates may be increased across the maturities and lending rates will start increasing after a couple of months. Again, the base rate will also increase with the rise in the interest rates. Bhatt, however, ruled out a change in the base rate. Even if deposit rates do see an increase, there is no chance of the base rate going up in the short term because in our case the base rate is benchmarked to the cost of a six-month deposit. If rates for other tenures go up, it will not affect our base rate.
M Narendra, executive director, Bank of India, said that deposit and lending rates are likely to go up by 25-50 basis points, though not immediately. We expect to see rates moving in a months time.
Observed Shikha Sharma, managing director & CEO, Axis Bank, It is very difficult to say when deposit rates would go up but there is an upward bias in interest rates. Deposit rates will go up before the lending rates. We have, however, not seen any shift in short-term lending towards certificate of deposits (CD) or commercial papers (CP). Going forward, we could see growth in steel and cement sectors apart from infrastructure.
According to Chanda Kochhar, MD & CEO, ICICI Bank, the change in interest rates does not happen just on account of policy changes but also depends on liquidity. The excess liquidity has disappeared and hence it is a tight liquidity situation. Once the government starts spending (on various projects) it will also create liquidity in the system, Kochchar said. When the upward bias in interest rates translates into an actual increase will depend on when demand and supply cross each other. In the immediate future, we will not really see any interest movement but over a period of time, there would be some amount of upward interest movements.
MV Nair, CMD, Union Bank of India said, The growth in credit offtake has been 22%. However, going ahead, liquidity appears to be a concern.
Central Bank of India executive director Arun Kaul said, The monetary action by RBI is aimed at attacking inflation. It has made funds costlier for banks. This signals an upward movement of interest rates.
---
Policy review every six weeks: RBI
Mumbai: On lines of central banks abroad, the Reserve Bank of India (RBI) would now undertake mid-quarter policy reviews in every six weeks, compared with the once a quarter at present. The mid-cycle reviews, due in June, September, December and March, are intended to take the surprise element off cycle actions, will be conducted after each quarterly review, said RBI .The next mid-quarter policy review will be held on September 16 and then on November 2.
The US Federal Reserve and the Bank of Canada schedule rate-setting meetings eight times a year. Policy makers at the European Central Bank, the Bank of England, the Bank of Korea and Bank Indonesia meet monthly to decide on rates.