A clutch of PE firms, including Morgan Stanley, Goldman Sachs and Norwest Venture Partners, are learnt to be together eyeing a minority stake in Asian Infrastructure Pte Ltd (AIL), a power company headed by former power secretary, RV Shahi. These firms may jointly invest around $300 million in AIL. Earlier, Morgan Stanley was the sole contender for the stake buyout. The joint move to go in for a stake is seen as a measure to mitigate risks inherent in large investments in high-risk business sectors.
According to sources, talks are in the preliminary stages and the exact stake each firm will acquire cannot be ascertained yet. Asian Infratech Pte Ltd, the wholly-owned subsidiary of Singapore-based AIL holds controlling interests in two service companies in India, Energy Infratech Pvt Ltd and Zeus Inframanagement Pvt Ltd that collectively employ more than 500 professionals. RV Shahi, who was the secretary, Union ministry of power from 2002-2007, served as chairman and managing director of Bombay Suburban Electric Supply (BSES) Ltd, now Reliance Infrastructure, from 1994-2002. He has also been on the boards of NTPC and PowerGrid. Srinivasa Rao Aluri, managing director, Morgan Stanley India Services Pvt Ltd, the PE arm of Morgan Stanley, did not respond to queries from FE, while Sohil Chand, managing director, Norwest Venture Partners India said he cannot comment. A Goldman Sachs spokesperson said the company does not want to comment on the matter. Queries sent to Asian Infra did not elicit any response.
Asian Infrastructure Pte Ltd (AIL), which was incorporated in November 2004, has invested in a portfolio of hydro, thermal and non-conventional generation assets for an aggregate capacity of over 3,984 MW. AIL is promoted by a group of high net worth individuals from the US, the Middle East and Singapore.
Arun Natarajan, CEO, Venture Intelligence, a research service focused on private equity and M&A, said, High demand and assured rate of returns make power an attractive sector for PE investments.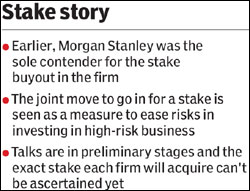 The significant drop in 2009 was predominantly because of the drying up of big-ticket transactions (typical for the power sector) due to the liquidity crisis. However, with improvement in liquidity globally and the fact that three infrastructure funds (with a corpus of over $1 billion each) are to be launched soon, power sector investments should recover strongly in 2010. In one of the major private equity deals in the sector, Farallon Capital and LN Mittal India Internet Ventures invested $395 million in Indiabulls Power last year.