One of the shibboleths of post-liberalisation India was the over-arching supremacy of urban demand. Its only fitting, therefore, that an historic year like 2009 shattered that belief. As we step into a brave new decade, theres a new kid in consumptionville. Riding government job guarantees, higher crop prices and lavish loan waivers, the countrys new avatar of purchasing power has proved a bulwark against the global financial turmoilin the process, buoying economic growth and sending marketing mavens scrambling back to their Excelsheets. So, for her role in insulating India from the meltdown, we nominate The Rural Consumer as FEs Person of the Year 2009.
Imagine what happens when a mass of 144 million households with over 730 million people start to assert its heft on the market for anything from daily essentials to durables, colas, cars and cellphones For, even as economic growth rebounds with a bang after the slowdown of the past year or so, it was rural Indiahome to over two-thirds of the countrys over 115-crore populationthat has emerged as the growth dynamo for a host of consumer goods and services. Take a bow, the humble rural consumer, FEs Person of the Year 2009.
Thanks to growing rural incomes and timely government help in terms of higher support prices for crops, guaranteed jobs and loan waivers to tide over drought, floods and endemic poverty, the rural consumer loosened her purse-strings, helping many a company shore up its sales and profit figures in a tough year, even as the urban consumer penny-pinched her way out of the slowdown.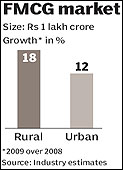 Says Planning Commission deputy chairman Montek Singh Ahluwalia: Information we have gathered suggests that consumer goods companies have reported normal growth in off-take of their products in rural India. This has been helped a great deal by substantial government spending on development and social security measures, which guaranteed rural development in a year that was otherwise very difficult.
Ahluwalias prognosis is finding traction across corporate Indias boardrooms. Says Maruti Suzuki chairman RC Bhargava: The governments efforts at bringing about more inclusive growth seems to be working. Theres more wealth creation and economic activity in rural areas due to several schemes, chiefly NREGA. So theres more money now available in these places.
The NREGA-led increase in rural consumption is contributing significantly to the economic activity of the country as the increased demand from the rural sector has encouraged the production of various goods. The rise in purchasing power of the rural consumer has also vastly improved the quality of life of the rural people across the country, confirmed rural development minister CP Joshi.
Indias 6 lakh-odd villages bought more of everything--from mobile connections, personal care products, motorbikes, cars well, you get the drift. The Rs 1-lakh crore-odd market for consumer expendables like soaps, shampoos, skin-creams and teafast-moving consumer goods (FMCG) in industry parlance--grew a handsome 20% plus in rural India, compared with 12-14% in cities. Nearly two-thirds of all new 170 million mobile subscribers in 2009 came from the hinterland. Indias rural story has finally taken off, says Bharti Airtel CEO & joint MD Manoj Kohli.
This year, the countrys biggest carmaker, Maruti Suzuki, sold every one in seven cars in rural India, up from less than one in 20 two years ago. The Rs 27,000-crore market for durables like televisions and refrigerators too grew handsomely in villages and small towns. The market for FMCGs, motorbikes and televisions is already split equally between urban and rural India.
The slow, but sure change in rural economy away from agriculture, which now accounts for just over 40% of rural GDP, down from over half even until the early 2000s, towards relatively less volatile industry and services sector-led livelihoods, also helped to stabilise and grow consumer incomes.A freak year, with drought in over a half of the countrys 600-odd districts, and then flash-floods in another 50 or so, brought home the benefits of this diversification away from agriculture more sharply as rural distress was minimal in 2009, compared to the last time the country faced drought of such intensity, in 2002.

There are 31 million rural households who are either self-employed in non-farm activities or are regular salary/wage-earning households and whose incomes are relatively de-coupled from the vagaries of agriculture production, compared with the 100 million agri and manual labour-led households, whose absolute number is still large, according to NCAER data. Moreover, the annual income of the 15-million-odd salaried rural households, at around Rs 1 lakh, is close to their 23 million urban counterparts who earn Rs 1.14 lakh.
Stable, growing incomes coupled with low penetration has made rural India an attractive destination for marketers fighting fierce competition in rapidly saturating urban markets. No wonder rural markets returned better growth, often double compared with urban areas, for a host of categories in 2009--from skin creams, hair oils, toothpastes and cars to mobile connections.
With penetration at just 12-14%, compared with over 40% for urban India and nearly cent percent for bigger cities and metros, rural India is the next growth frontier for the telecom sector. Says Tata Teleservices MD Anil Sardana: Going forward, the rural sector will be a prime focus area as the industry spreads its reach into the entrails of bucolic India on the back of customised applications that not just add to the quality of life, but to livelihoods, too.
It is through renewed focus on rural penetration and customer affordability that India has been placed in a league of countries with the lowest tariffs in the world. Technology has brought opportunities to the farmers doorstep and connectivity has begun to empower rural households to improve income levels, adds Airtels Kohli.
Though rural India accounts for around a third of national income, its share of national demand for various goods & services is pegged at close to 60%. According to NCAER estimates, the bottom 80% of Indias population accounts for 65% of the total consumption, with a large number of them in rural India. New Delhi-based analytics firm Indicus Analytics puts the rural market size at Rs 14 lakh crore, compared with Rs 16 lakh crore for urban India this fiscal year.
According to a recent CII-Technopak study, Towards a Better Connect with Rural India, consumer demand in rural India has remained strong thanks in part to government largesse. The report points out that the minimum support price for crops has grown by 10-15% year-on-year between 2005 and 2008, compared with a low 2.5-4% during 2002-2005. One-time farm loan waivers in 2008 of over $13.9-billion and over $15.9-billion spent on NREGA since its inception in 2006 has meant that ...rural India has thus been relatively insulated from the crippling blow of the global slowdown, it has also not reached a level where there is room for slowdown. The rural story looks all set to play out strongly in the future.
Data Source: Market Skyline of India: Rural & Peri-Urban Markets, Indicus Analytics