The organised retail sector, which bounced back somewhat in the three months to September 2009, posting double-digit topline growth, should turn in an even better performance in the quarter ended December 2009. After all, economic growth was gathering momentum, there had enough liquidity in the banking system, stock markets were on a roll and companies had started hiring once again. As such, consumers had regained confidence and were willing to spend; the festive season, which set in earlier than usual last year, had seen spends go up.
Most retailers, therefore, should manage a high double-digit topline growth for the December 2009 quarter. The good news is that operating margins could improve further with companies having kept a check on costs. As a rule, retailers have been shutting down unviable stores across formats, bringing down the expenditure on rentals. Of course, they have also been adding some outlets in new locations.
Pantaloon has seen a double-digit growth in same-store-sales during the December 2009 quarter. The value segment saw a growth of 25%, 28% and 30% in October, November and December 2009, respectively. The lifestyle space didnt do too badly, either. It grew by 6% in October 2009, 8% in November and touched double-digits in December. Kishore Biyani, CEO, Pantaloon Retail, believes there is a change in the sentiment and consumer spends are higher across categories such as apparel, fashion accessories, cosmetics and white goods. With the economy recovering, the retailer, who has around 10 million sq ft of space, should grow faster now than it did in the year up to June 2009 when revenues increased by 25.6% to Rs 6,342 crore (stand-alone).
With the value retailing growing faster and now fetching approximately 70% of revenues, gross margins could be under pressure. However, the company is making attempts to contain costs and so, operating margins could improve with better operating efficiencies and operating leverage. Given its wide range of formats and the aggression to build scale, Pantaloon is well-poised to cash in on the rising consumer spends in organised retail chains. Since October 2009, footfalls at Big Bazaar and Pantaloon have seen an estimated increase of 20-25% and a fair share of customers are buying products.
Shoppers Stop, too, is recovering from the downturn. Same store sales, which had fallen by about 7% in the June quarter, rebounded in the September quarter with a growth of 1.8% as result of which operating margins were up at close to 10%. The December quarter should be even better and the retailer will see a strong uptick in the operating margins with industry watchers forecasting a 300 basis points expansion, thanks to better operating leverage. Although the retailer hasnt scaled up operations over the past year, it could do so now that the operating environment is more conducive. Since April 2009, Shoppers Stop has launched only two mid-sized stores, but it hopes to launch eight stores in 2010. In all, it hopes to add 4 lakh sq ft over the year, for which it plans to spend Rs 100 crore. Currently, the company has 30 large-format stores.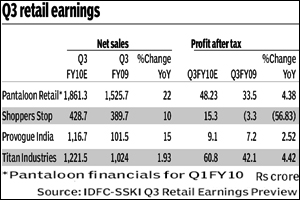 The Bangalore-headquartered Titan, which saw a fall in jewellery volumes of just under 10% in the September 2009 quarter, could continue to see weak volumes. The management recently noted that the festive season had seen fairly good sales, though high gold prices were a bit of a concern. It was unlikely, the management observed, that jewellery volumes would pick up significantly with gold prices at current levels. Titans watches business hasnt been faring too well either, though there has been a bit of a rebound in recent months. Sales showed a marginal decline in the September 2009 quarter at Rs 295.52 crore, compared with Rs 303.45 crore posted during the corresponding period in 2008. Titans net profit for the first half of the year has remained virtually flat at Rs 161.09 crore, compared with the corresponding period of 2008-09. Thats not surprising since total sales were up by a mere 6.3%, at Rs 2,045 crore.
After shutting down 140 loss-making retail stores during the June 2009 quarter, Spencers Retail, a division of RPG Enterprise, is expected to grow revenues by about 9% in the December 2009 quarter, according to Sanjiv Goenka, the companys vice chairman. Goenka says same store sales have been growing at 18% in the last three months. We have been able to reduce our operating costs to the tune of Rs 100 crore, reduce inventories, streamline our supply chain management and focus on retail innovations, observes Goenka. Spencers is planning to set up about a dozen large stores by March 2011.