India not only ranks fifth in terms of five-year investment growth in the renewable energy sector, but also among the top five countries of the world in terms of renewable energy capacity
The year 2012 is one dedicated to renewable energy and a report by US-based The Pew Charitable Trusts, in collaboration with data provider Bloomberg New Energy Finance, points out that India is in the forefront of clean energy initiatives globally.
Titled Whos winning the clean energy race, the report says the G-20 member countries continue to dominate the sector, accounting for 95% of all global investments in clean energy. While Europe, Middle East and Africa region emerged as the aggregate leader in clean energy investment, with $99.3 billion recorded in 2011, Asia and Oceania region continues to be the second leading destination for clean energy investments at $75 billion, growing more than 10% in 2011. Relatively flat growth in China (up 1%) was mitigated by sharp investment gains in India, Japan, and Indonesia, which were among the fastest growing clean energy markets in the world.
The numbers show a healthy trend at a time when worldwide clean energy investment grew in 2011 by a modest 6.5%, outpacing growth in the overall economy. The sector attracted $263 billion of investment last year.
The report says solar energy investments were up seven-fold, and installed capacity increased 10 times above 2010 levels. Wind energy capacity additions were a record 2.8 GW.
Numbers reflect balanced investments in India, where 45% of financing ($4.6 billion) was directed to wind resources and 41% ($4.2 billion) went to solar. Indias growth propelled it from 10th to sixth place in the G-20, and the country ranks fifth in terms of five-year investment growth, the report says.
With an installed capacity of over 25 GW of grid-connected power, India today stands among the top five countries of the world in terms of renewable energy capacity. Renewable power represents about 12% of total installed electricity generation capacity in India. Interestingly, the Ernst &Young All Renewables Country Attractiveness Index has ranked India as the fourth most attractive investment destination.
With India committed to increasing the share of renewable power in the electricity mix to 15% by 2020, the government has readied an action plan that aims at accelerating the deployment of renewable energy to achieve around 30 GW of renewable power by 2017.
The renewable energy mix of the country comprises wind, hydro, solar, biomass and waste to power, with wind forming the largest chunk, followed by small hydro.
The total investments in India are over $10 billion and largely led by the private sector, which accounts for 80% of the power projects in this space, says an official with the CII-ITC Center of Sustainable Development.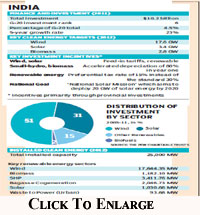 Private renewable projects constitute almost 99% of all renewable projects in the country and only demonstration projects are undertaken by the government.
The report adds that clean energy investments in India increased 54% in 2011 to $10.2 billion, vaulting the country from 10th to sixth place in the G-20 in just one year. The wind sector in India led the way, attracting $4.6 billion and spurring deployment of 2.8 GW during the year, a 38% increase in wind generating capacity. China led all G-20 competitors in clean energy asset financing, attracting $44.3 billion. The US was second at $36.5 billion, followed by India at $9.5 billion and Germany at $8.7 billion.
So far, wind and small hydro (less than 25MW) have been Indias strengths, but solar is the fastest growing renewable. While one can add huge amounts of capacity in wind every year, the growth is fastest in solar, mostly photovoltaic, explains Kameswara Rao, leader-energy, utilities and mining, PWC.
Despite tax breaks for the wind sector having ended in March , experts feel the sector has managed to stand on its feet all by itself.
A new era has begun in the clean energy sector and this is a sign of maturity of the renewable industry, because it is growing without any significant incentives. The industry is now standing on its own feet without much subsidy being given for new capital formation, Rao adds.
Moreover, Indias pursuit of its National Solar Mission, which aims to deploy 20 GW of solar energy by 2020, is evident in the seven-fold increase in solar energy investments, to $4.2 billion, and record installation levels. Besides, Indias solar sector is also expected to receive a boost as investors and developers turn their attention away from a troubled European market in search of high-growth developing markets.
Indias strong project pipeline and untapped resource potential means it is likely to benefit from this shift in global solar investment.
The government maintains that despite the strong push for solar energy, wind energy continues to contribute significantly to Indias renewable energy matrix and with over 17 GW installed capacity, India competes globally in manufacturing and deployment.
Surplus biomass material could also potentially be used to generate about 20 GW of power, renewable energy minister Farooq Abdullah recently said, stating that around 1.1 million Indian households are already using solar energy to meet their lighting energy needs and that Indias investment requirement in renewable energy would be in the range of at least $50 billion in the next five years alone.
Total worldwide installed clean energy capacity by technology
As of December 2011
Wind 239 GW
Biomass and waste-to-energy 57 GW
Geothermal 11 GW
Small-hydro 184 GW
Solar 73 GW
Marine 0.6 GW
Total 565 GW
TOP 5 countries In Investment Growth
2010 VS 2011
1-year growth rate
Indonesia 521%
India 54%
US 42%
Italy 38%
France 36%
5-year growth rate (2006-11)
Italy 89%
Indonesia 53%
China 37%
Australia 28%
India 23%