The department of information technology (DIT) is expected to float tenders for a contract worth approximately Rs 2,000 crore to enable digitisation of records of people across 640 districts, covering six lakh villages, according to government sources.
The digitisation comes under the e-district project through which the DIT wants to digitise records of birth and death, property, vehicle registrations and land amongst others, at an estimated investment of Rs 3 crore per district. The tenders are expected to be floated in about three months, after approvals from the competent authority, the source added. Premier IT firms, including Tata Consultancy Services (TCS), Infosys Technologies and Wipro Technologies, which are already eyeing big business from the government, see this as yet another opportunity.
The project is directly linked to the computer services centres (CSCs) project, initiated by the government four years back, which aims to provide a single window of access for government and private services in villages. The plan was to have a network of one lakh CSCs by 2008. The success of this project, however, hinges on first completing the digitisation of records and this enhances the significance of the 'e-district' project.
The DIT is already running a pilot project for 'e-district' across 40 districts in 15 states and would float a tender for a national rollout. IT firms like Wipro Technologies, Microsoft, TCS and HP are already working on the pilot projects. The provider would have to digitise a minimum of 10 services and can add over and above that, the source said.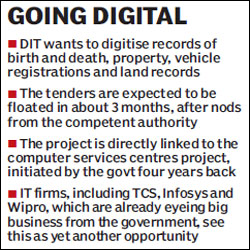 Recently, 3i-infotech, which was allocated 12,500 CSCs, backed out saying it was incurring losses due to the lack of digitised information for the company to provide services. Private players were expecting the CSCs users to end up using various private services like banking, e-learning, Internet surfing and telecom.
There are currently 80,000 kiosks, of which only 65,000 are operational. Meanwhile, the IT department has been handed a fresh mandate to expand the number of kiosks to 2,50,000 and convert them to Bharat Nirman Rajiv Gandhi Sewa Kendras, or village knowledge resource centres.