A day after the Reserve Bank of India (RBI) raised key policy rates a tad more than industry expectation, bond yields touched a near three-month high. The 10-year benchmark bond, carrying a coupon of 7.80% and maturing in 2020, was up by three basis points at 7.75%, its highest level since May 7, although it had eased to 7.70% in early trade. Yields may have ended higher but for money coming into the market after bonds worth Rs 30,000 crore were redeemed on Wednesday.
On Tuesday, the central bank increased the repo and reverse repo rates by 25 and 50 basis points, respectively, but bonds didnt really react too much, rising by about five basis points to 7.73%.
Said S Srinivasa Raghavan, vice-president and head of treasury at IDBI Gilts, There has been an inflow of Rs 15,000 crore into the system and so liquidity has eased a bit. We expect it to remain this way for a week but government borrowings could bring back the pressure and, therefore, bond yields to touch 7.80% soon.
Indeed, money is poised out of the market with the government looking to mop up Rs 15,000 crore later in the week through auctions; in all it could suck out almost Rs 50,000 crore before August end. And that could leave the system short by about Rs 20,000-30,000 crore. On Wednesday, banks borrowed Rs 2,255 crore from the RBI though they parked Rs 5,775 crore with the central bank's reverse repo window.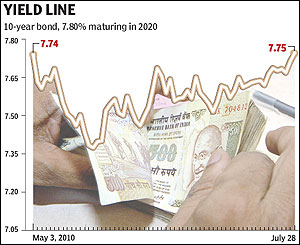 RK Gurumurthy, trading head at ING Vysya Bank, points out that money could flow in later as banks get back money from the government, as and when bonds matures, and also it starts spending on projects. So the shortfall may reduce and over the next couple of months, money supply will be moderated till the central bank is comfortable with inflation levels, he explains. The RBI has made it clear that it wants to actively manage liquidity to ensure that it remains broadly in balance and that excess liquidity does not dilute the effectiveness of policy rate actions.
Meanwhile, the one-year overnight indexed swap, which was trading at at 4.77% in early May 2010, has moved up to 6.20% on Wednesday, with the rise in interest rates. Joydeep Sen, SVP, fixed income(advisory), BNP Paribas Wealth Management, says, The market is reconciled to the idea that interest rates are going to move up over the next year or so and that it could result in a sharp spike in the one-year overnight indexed swap levels.