Debt restructuring, sell-off of the telecom business to Norways Telenor, and focus on affordable housing saw the countrys second largest real estate firm, Unitech Ltd post a jump of 29.37% in its net profit at Rs 176.01 crore during the October-December quarter. The company had posted a net profit of Rs 136.05 crore during the same period of the previous fiscal.
The period saw Unitechs total income increasing 57.65% at Rs 774.46 crore, against Rs 491.24 crore during the same period of the last financial year.
Earlier in the week, the countrys largest real estate firm DLF Ltd posted a 30% decline in its net profit. Unitech was the most adversely affected real estate firm in the country last year after the global financial meltdown, with its share price crashing to around Rs 20. A company statement said the firm continued to reduce its debt during the quarter and net debt to equity as of December 31, 2009, stood at a healthy level of 0.55. During the first nine months of the current fiscal, the company reduced its debt by Rs 2,854 crore. The total loan outstanding as of December 31, 2009, was Rs 6,201.70 crore. The company had Rs 611 crore in cash and bank balance as on December 31, 2009.
Unitech said it launched over 30 new projects comprising an area of 24.42 million sqft in the first nine months, of which it has already received bookings for over 13.14 million sqft across Gurgaon, Noida, Greater Noida, Chennai, Kolkata, Mumbai, Bhopal, Lucknow and Mohali. The total value of sales bookings till December 2009 was approximately Rs 5,500 crore.
The quarter also saw Unitech emerging a key player in markets like Mumbai and Chennai.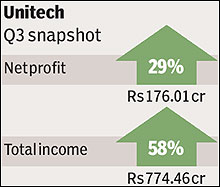 The company received bookings for approximately 1.6 million sq ft in Mumbai and 1.75 million sq ft in Chennai during the first nine months of the current financial year.
Announcing the results, Sanjay Chandra, managing director, Unitech Ltd. said, While the company continued to make good progress in terms of project launches and sales bookings, I am particularly gladdened by the progress in construction. During the nine months ended December 31, 2009, the company has ramped up the construction activity at various project sites and it currently has over 60 projects under execution.