Pressure on mobile telephony companies will continue in the second quarter of the financial year ended September as they fail to add more subscribers. This comes even as existing subscribers spend less time to talk and the rupees fall forces companies to pay more for their overseas loans.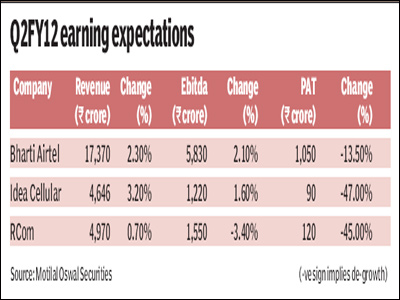 Analysts FE spoke to said heavy expenses incurred to roll out third-generation network would also squeeze margins in the quarter. Now, the companies are hunting for quality subscribers, a departure from their earlier drive to add customers, giving up on revenues. The number of new subscribers have more than halved to 7 million a month from 17 million in the reporting period previous year.
The Indian telecom industry sells around 50 million sim cards a month, said Syed Safawi, Reliance Communications president, wireless business, in an earlier interaction with FE. However, the net addition is just 10-15 million. So, the balance acquisition is not resulting into revenue, he added. According to him, therefore, there is now more rationality in the pricing regime.
However, analysts say this rationality is yet to translate into higher revenues.
September quarter is typically a weak one for the Indian wireless players, said analysts Rohit Chordia and Shyam at domestic brokerage Kotak Institutional Equities in report released on October 3. In addition, a sharp rupee depreciation is likely to result in substantial forex losses, especially for Bharti.
It is too early to assess the impact of recent tariff hikes, though we expect revenue per minute (RPM) to trend up marginally, they added.
Absence of festivals will also cut down minutes of usage or MOU, which means minutes a subscriber uses a month. Dip in MOU from subscribers will pull down the average revenue a subscriber pays or ARPU to R185 for Bharti Airtel, R157 for Idea and R98 for RCom. Last year, Bharti reported an ARPU of R250, Idea R200 and RCom R190 for the same quarter.
We expect MOU of Bharti Airtel (excluding Africa) and Idea Cellular to experience a decline by 3% each and RCom by 5% to 432 minutes, 379 minutes and 221 minutes, respectively, said analysts Srishti Anand and Ankita Somani at domestic brokerage Angel Broking in a report released on October 3. It is because July-September quarter is a seasonally weak quarter for MOU due to monsoon season, which leads to higher call drop rates.
In July, the mobile companies increased the tariffs by 20% to 1.2 paisa for every second, the first in 10 years, from 1 paisa. Analysts, however, say the tariff hike impact will take another 2-3 quarters as old subscribers will start paying new tariff after their present offer expires. Some analysts say adding quality subscribers will benefit companies.
Lower subscriber net additions could also drive cost savings, said Shobhit Khare analyst at domestic brokerage Motilal Oswal Securities wrote in a recent report released on October 4, 2011.The average customer acquisition cost has fallen by one third to anywhere between R60-100 from R200-250.
Companies had to pay more as rupee depreciated to R49 a dollar in reporting quarter from R44.8. All mobile telephony companies have raised loans from overseas banks to pay for 3G licence fee and purchase equipment.Some companies like RCom have chosen to raise money from Chinese banks.