Tech Mahindras plan to raise up to Rs 1,000 crore via a qualified institutional placement (QIP) has met with a cold response from potential investors. Its almost two months since the company obtained a board mandate for a QIP, but the issue is yet to be floated.
The Tech Mahindra board had on June 24 okayed an institutional placement of 13.6 million shares to partly repay the Rs 2,380 crore it borrowed to acquire Satyam, now Mahindra Satyam. In the last quarter, the firm had paid Rs 57.1 crore as interest on its total borrowings.
When asked when Tech Mahindra expects to float the QIP, Sanjay Kalra, the companys CEO, told FE , QIP is a regulated process, so I cannot give you a timeline. But we will go ahead when the market is ready.
The delay in floating the issue is in sync with the similar postponements made by companies like GMR Infrastructure, which in early July put off its plans to raise $500 million (around Rs 2,500 crore) through a QIP. The withdrawal raised concerns about the possible oversupply of papers and also pricing issues in the stock market.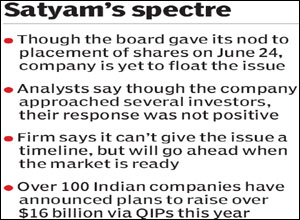 Over 100 companies have announced plans to raise more than $16 billion (around Rs 77,000 crore) in institutional placements this year, according Bloomberg data. For companies strapped for cash, raising money through a QIP is an attractive proposition, as it is quicker, and needs fewer approvals than an IPO.
An analyst with a Mumbai-based research firm said Tech Mahindra had approached many domestic investors, but their response wasnt positive. Tech Mahindra wanted to do the QIP as early as possible. But investors have not reacted positively due to concerns about Mahindra Satyams finances.
Tech Mahindra, through its 100% subsidiary Venturebay Consultants, bought 31% of Satyam for Rs 1,756 crore in April this year. It subsequently came out with an open offer for another 20% stake in the company, making the deal worth Rs 2,889 crore in all.
Explaining the reticence of the investors, Indranil Deb, principal, Mobius Strip Capital Advisors, said, Tech Mahindra has taken a controlling stake in Satyam, and even if the two companies are not merged, the operational liability (will) come to Tech Mahindra. If Mahindra Satyam is not able to perform as Tech Mahindra had assessed before the acquisition, it will bleed the firms (Tech Mahindra) balance sheet and drain resources to keep Satyam running.
QIPs were introduced by Sebi in 2005 in response to companies demand for a quicker medium to raise resources than public issues. Listed companies can raise capital from stock markets without any pre-issue filings with the market regulator, Sebi.
A normal practice for companies is to sound out investors, to judge their response, before floating an issue. Sebi norms say a QIP has to be for at least two investors if the issue size is up to Rs 250 crore; and five, if the size is larger. No single investor can be allotted more than 50% of an issue. The share price has to be two weeks average from the date of board approval. By this formula, the average share price of Tech Mahindra for the period is about Rs 756. Tech Mahindra on Thursday closed at Rs 831.35, up 1.73% on the Bombay Stock Exchange.
A senior analyst with a equity research firm said, At times investors want to wait and watch to know if the share price of a company drops below the price decided for a QIP. Investors then would want to acquire the shares on a lower price.
Mahindra Satyam continues to face many issues even after Tech Mahindra took it over. Sudin Apte, senior analyst at Forrester Research, in his report Evaluating Satyams New Avatar Mahindra Satyam, has noted, While Satyams new buyer is undergoing the next steps related to the acquisition of equity and the changing of key executives in Satyam, clients have very limited insight into what is happening and when the whole exercise will be over. Many clients we spoke with are keen to know the roadmap of the acquisition and how the integration will pan out. However, Tech Mahindra is releasing very limited information, citing compliance restrictions. This has left many clients in a state of confusion about the future and the timeframe of the deal completion.
But countering the same, Atul Kanwar, head, business development & operations for Europe, Australia, Middle East, Africa & India at Mahindra Satyam, told FE recently the management has been transparent with clients. With our existing and new clients we have taken steps to communicate about our direction and model. We are witnessing interest from clients across the geographies.