Tata Steel on Thursday announced a steeper-than-expected consolidated net loss of Rs 2,209 crore ($461 million) for the first quarter ended June 30, compared with a net profit of Rs 3,901 crore ($814 million) in Q1 FY09. The company attributed this to a fall in demand for steel in Europe and the US owing to the global slowdown and the termination a steel off-take agreement at a key European plant. The world's eighth-largest steelmaker by output was also hit by lower steel prices and higher cost of imported coal.
The consolidated results include the financials of Tata Steel Europe, which comprises Corus in the UK, which the company acquired in January 2007.
Tata Steels consolidated turnover for the June quarter stood at Rs 23,292 crore ($4,863 million), 46% lower than the Rs 43,496 crore ($9,081 million) registered in the first quarter of 2008-09. The drastic fall in revenues was primarily due to a drop in sales volumes at Tata Steel Europe, as well as a drop in prices in India and Southeast Asia, the company said.
Following the results announcement, Tata Steel shares dropped 5.14% to close at Rs 436.40 on the BSE on Thursday.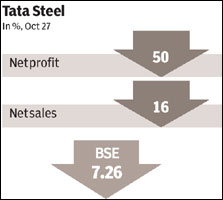 Addressing the companys annual general meeting of shareholders on Thursday, chairman Rata Tata said the loss reflected a continued squeeze in demand in the US and Europe, and said the company aimed to rationalise operations in Europe and optimise cost effectiveness.
Global steel production has dropped by a fifth in the first seven months of this year, with a contraction in demand from the building and automotive sectors. It is, however, gradually picking up as steel mills revive idled capacity. The world's largest steelmaker, ArcelorMittal, reported an 85% drop in its April-June core profit. Nippon Steel, ranked No 2, booked a second consecutive quarterly loss. In April, the World Steel Association forecast 2009 steel demand would tumble 15%, its steepest fall since World War II.
Total steel deliveries for Tata Steel for the quarter dropped 37% to 5.4 million tonne from 8.6 mt in Q1 FY09 mainly due to a fall in volumes at Tata Steel Europe. This was caused by demand contraction, especially in Europe, on account of the global economic downturn, the company clarified.
The unexpected termination of the Teeside agreement in April 2009 by four off-takers cost
Tata Steel Europe Rs 244 crore ($51 million) in EBIT and Rs 742 crore ($155 million) in operating cash flows in the first quarter, said Tata Steel Europe CEO Kirby Adams. Tata Steel Europes turnover was Rs 15,228 crore ($ 3,179 million) in Q1 FY10, compared with Rs 32,955 crore ($6,880 million) in the first quarter of FY09.
Turnover at Tata Steel India (standalone) was also down to Rs 5,616 crore ($ 1,172 million) in Q1 FY10, against Rs 6,153 crore ($1,285 million) in Q1 FY09.
In a media release, Tata Steel managing director B Muthuraman said, The group is currently undertaking several restructuring initiatives internally to not only weather the current storm, but to emerge much stronger in the near future.
He added that the global recovery is expected to be slow and the company will continue to focus on operating performance and liquidity management. Overall, the Tata Steel group is in a relatively good position because of our wide geographic reach and our strong position in the growing Indian market, he said.
The drop in profits comes despite the companys cost cutting efforts, which brought about savings of Rs 2,200 crore in the first quarter. Tata Steel said it continues to have a robust liquidity position (including undrawn credit lines) of over Rs. 16,750 crore ($3,500 million) on date on account of external capital raising and tight working capital management across all geographies. The net debt for the group at end June 2009 was Rs 49,170 crore ($10,265 million).
Adams said, We anticipated that the first two quarters of the current year would be a difficult one for European steelmakers, which is why we started taking action early this calendar year to align our output and costs to the lower demand levels in Europe. Despite the reported losses, Tata Steel Europe has generated substantial operating cash flows in the quarter through tight working capital and spend-management. We will continue to do what is required to ensure that the financial performance of Tata Steel Europe recovers to positive territory in the second half.
The company said actuarial gains and losses on funds for employee benefits (pension plans) of Tata Steel Europe for the period from April 1, 2008 have been accounted for in reserves & surplus in the consolidated financial statements in accordance with IFRS principles and permitted by Accounting Standard 21.
Had the company recognised changes in actuarial valuations of pension plans of Tata Steel Europe in the profit & loss account, the consolidated loss after taxes, minority interest and share of profit of associates for the quarter ended June 30, 2009 would have been higher by Rs 2,147 crore ($448 million). The consolidated profit after taxes, minority interest and share of profit of associates for the quarter ended June 30, 2008 would have been lower by Rs 5,508 crore, or $1,150 million.
Tata Steel also said that the board of directors of the company has approved payment of pro-rata interim dividend for the period April 1, 2009 to August 31, 2009 on 2% cumulative convertible preference shares of Rs 100 each of the company.