Tata Steel Ltd, India's largest and the world's sixth largest steel maker, on Tuesday reported that its standalone net profit for the second quarter ended September 30, 2009, fell by almost half due to falling global steel prices. The fall is surprising considering a sharp pick up in the demand for automobiles in the economy, the main consumer for steel products.
The companys net profit in Q2 fell 49.5% to Rs 902.94 crore from 1,787.81 crore in the corresponding quarter last year. Its net sales during the quarter stood at Rs 5,629.11 crore, down 16.30% against Rs 6,725 crore in Q2 FY 2009.
The long product prices were under pressure during the second quarter. However, steel prices are expected to remain at the current levels for the rest of the year, said HM Nerurkar, MD of Tata Steel.
The companys Ebidta margins during the quarter fell to 35% against 50% in Q2 FY 2009. Its revenues from Ferro Alloys fell 53% to Rs 433.91 crore against Rs 926.02 crore in Q2 FY2009.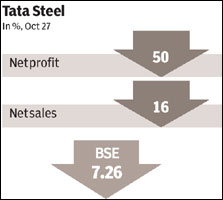 Kaushik Chatterjee, group CFO of Tata Steel, said, The company has lost Rs 500 crore of operating profit due to weakening ferro alloys prices globally.
For the six months ended September 2009, net profit of the company fell 48.33% to 1,692.77 crore against Rs 3,3276.21 crore in the same period last year. Net sales during the period also dropped 12.72% to Rs 11,183.87 crore.
Tata Steels shares on Tuesday fell 7.26% to Rs 501.30 on the Bombay Stock Exchange as the drop in profits for the second quarter was lower than expected, after lower prices prevailed over increased demand from the construction and automotive industry.
The company, which acquired Europes second-largest steelmaker Corus in 2007, said its sales volume during the quarter grew by 20% to 1.46 million tonnes and raw material consumption grew 6.1 % to Rs 1,426.52 crore. According to Nerurkar, Volumes are moving up and Tata Steel expects its volumes to be higher in the second half of the current financial year. However, import of steel in the country is putting pressure on the prices of the commodity, he adds. Tata Steels India operations account for about a quarter of the group's total annual global capacity of 30 million tonnes, which includes Corus, which is Europe's second-largest steelmaker. Tata Steel, which raised $500 million through global depository receipts in July this year, said its finance charges rose 54% to Rs 392 crore against Rs 254.82 crore in Q2 FY 2009.
Says Rahul Singhvi, an analyst with Sharekhan, The results are in line with our expectations. The steel prices sequentially have improved for the flat products but not for the long products. Tata Steels exposure to long products has increased during second quarter.
Domestic steel makers had raised prices of flat steel products such as plates and sheets, mainly used in manufacturing automobiles, refrigerators and washing machines, by about 3-5% from September 1, 2009, in line with international prices. Tata Steel had also raised prices of flat products by Rs 1,500 a tonne. Earlier this month, the World Steel Association forecast steel demand would fall 8.6 % this year, a much smaller fall than the 15% it predicted in April.