Auto major Tata Motors turned in a fairly good set of numbers (stand-alone) for the December 2009 quarter, with net profit of Rs 400.14 crore pretty much in line with the Streets expectations. The company had incurred a loss of Rs 236 crore in the corresponding three months of 2008. The recurring net profit works out to Rs 424 crore which is a fair number, observed an analyst.
The company said the strong 67% growth in volumes together with the price increases taken in October, 2009, helped it post an increase in revenues of 89% to Rs 8,980 crore. Despite an increase in the prices of raw materials, Tata Motors reported an operating profit margin of 12.8%, which was, however, lower than 13.4% achieved in the September 2009 quarter. One reason for this was that input costs as a share of sales rose nearly 300 basis to 68.5% sequentially, leaving the net profit lower by 45% quarter on quarter.
The management believes that margins could be under pressure in the coming months. C Ramakrishnan, CFO, Tata Motors, said, We expect the margins to remain under pressure in the coming quarters even though volumes are seeing an increase on the back of new launches. Peers Mahindra & Mahindra (M&M) and Hero Honda Motors saw sharper contractions in their margins of nearly 300 basis points and 100 basis points respectively in the December 2009 quarter.
Ramakrishnan also expressed concerns about a rise in interest rates, the lack of clarity on when emission norms would become effective and the possible withdrawal of stimulus package. PM Telang, managing director India operations, Tata Motors, said, While BS IV will be effective in 13 cities, we are more concerned about the other cities which will upgrade to BS III because we are not sure whether the oil retailers are ready with the cleaner fuels.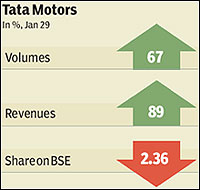 While the debt on Tata Motors books has risen to Rs 20,000 crore, at the end of December 2009 from Rs 18, 600 crore at the end of September 2009, Ramakrishnan pointed out that the companys net debt to equity ratio had come off to 1.44 times from 1.6 times.