Tata Global Beverages (TGB), erstwhile Tata Tea on Thursday posted a consolidated net profit of Rs 46 crore in the first quarter of this fiscal as against a net loss of Rs 20 crore in the same quarter last fiscal.
The company's majoirty business comes from overseas and through its subsidiaries. As there was no adverse conversion impact of currency on overseas subsidiary assets, the company managed to gain profit. For the same period, the company has posted an increase in consolidated net sales of Rs 1,373.89 crore as against Rs 1,275.11 crore in the year-ago period.
TGB MD Percy Siganporia said, Last 12 months we have taken solid price rise and resumed market share in volumes. Moreover, the margins have expanded in certain products. All this has led to a good growth in the business of TGB this quarter.
The total operating income rose by 7% at Rs 1,380 crore in the quarter ended June 30, 2010, as compared to Rs 1,295.60 crore last year. This can be attributed to the price increases that it has taken and acquisitions like one in Russia which are offset by adverse exchange rate movements. It also phased out promotional sales in the key markets.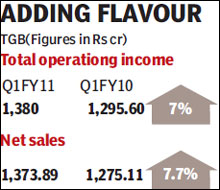 Profit before exceptional items for the quarter stood at Rs 105 crore which has been impacted by higher expenditure on growth initiatives, higher commodity costs, and lower interest earnings. However, profit before tax is higher at Rs 91 crore as compared to a loss of Rs 36 crore in the corresponding period of the previous year. The tea segment, from which majority of revenues come, grew almost 4% at Rs 1014.31 crore as compared to Rs 973.92 crore in the same quarter last year.