Nearly two and a half months after scrapping the Tappal township project in Aligarh district in the face of violent agitation by local farmers against acquisition of land, the Uttar Pradesh government on Tuesday revived the project. The state government also decided to reward the farmers with compensation as per the new rehabilitation and resettlement (R&R) policy announced by it in September.
Cabinet secretary Shashank Shekhar Singh said a decision in this regard has been taken by chief minister Mayawati in the interest of the farmers of Tappal.
The Tappal incident catapulted the vexed issue of land acquisition to national prominence after the agitation between the farmers and the police took a violent turn. As many as four persons, including a provincial armed constabulary commander, were killed over the acquisition of nearly 500 hectare for the township on August 14 this year, forcing the state government to scrap the project.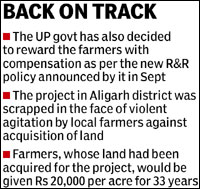 ?A 60-member delegation of farmers had a detailed discussion with the additional Cabinet secretary Netram on Tuesday and placed their demand that the township project be revived as it was in their own interest and that of the region. They also demanded that they be given benefit of the compensation as per the new R&R Policy announced by the state government in September,? Singh said, adding nearly 600 farmers have already submitted affidavits in support of their demand. Singh said that under the new R&R policy, only those projects which were announced after September 3 are to be covered under it, but considering the demand of the farmers, CM has agreed to it.
He said farmers whose land had been acquired for the proposed township in Tappal would be given Rs 20,000 per acre for 33 years along with an additional amount of Rs 600 increased annuity per year.