The Prime Ministers task force on micro, small and medium enterprises (MSME), set up amidst the uncertainties of the global meltdown in 2009, has completed its report in double-quick time. Thanks to its timing and the context, the report contains both tactical and strategic elements.
The taskforce classified MSME issues into seven thematic areas: credit; marketing; labour; rehabilitation and exit; infrastructure, technology and skill development; taxation; and development of MSMEs in the North-East and Jammu & Kashmir.
The report subdivided its recommendations into four parts: measures that need immediate action; medium-term institutional measures; legal and regulatory structures; and issues related to the north-eastern states and Jammu & Kashmir.
Lined up for immediate attention are eight recommendations, of which the first five are straight forward. The first recommendation is to continue the MSME-specific components of the stimulus package through 2010-11, which included the interest subvention scheme for certain export-oriented employment-intensive sectors, refinance facility at Sidbi and the like. The second one wants commercial banks to adhere to a credit growth target of 20% in lending to MSMEs. Of this, 60% has to be earmarked for micro-enterprises. Third, any shortfall in funds earmarked in banks for micro to go to a special fund for micro in Sidbi. Fourth, 20% volume of government purchases has to be from MSMEsa goal to be achieved in a stipulated period. The fifth suggestion is for an offset policy for defence and aviation sectors through which foreign vendors have to procure goods of specific percentage from local suppliers, particularly MSMEs.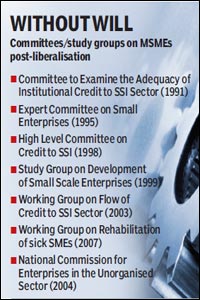 The recommendation seeks additional public spending of Rs 5,000 crore over three-to-five years for rehabilitating sick units, establishing technology-banks and incubators in institutions, renovating existing and developing new industrial estates, revitalising district industry centres (DICs), strengthening the equity base of NSIC, entrepreneurship and skill development programmes.
The focus gets diffused here. The report had to grapple with contentious issues like revitalising DICs and matters that overlap with other ministries such as incubators in institutions (ministry of science and technology) and skill development (ministry of labour).
Another recommendation is for giving legal and fiscal instruments to help migration of the unorganised sector to the organised sector, which no doubt is a noble cause. However, at the root of the problem are archaic regulations and related excessive compliance costs. The answer to the vexed question lies in pushing comprehensive regulatory reforms, which are overdue in India. It is doubtful how much of it could be achieved through incentiveslegal or fiscal.
The report does well by nudging the emerging regimes of direct taxes code and the goods and services tax to specifically address these MSME concerns.
A concern of the report in the medium term is the setting up of an independent body at the national level for promotion and development of MSMEs. The suggestion to create an over-arching institution above the existing institutions on the lines of Small Business Administration of USA looks an overly ambitious solution. Having just another institution, in addition to a host of bodies professing to take care of MSMEs, including DC-MSME, would hardly serve the cause of MSMEs. There are fears that it might eventually end up adding one more layer of hierarchy and another cost centre.
The faith of the report on DICs is also rather misplaced. The DICs do not have the capabilities or the manpower with techno-commercial competence to examine the viability of sick units and implement rehabilitation packages or build capacities of potential and existing entrepreneurs. Expecting such tasks from DICs is too much when even a simple filing of IEMs with DICs is a cumbersome and tardy process for entrepreneurs.
While the report does highlight the neglect and decay in industrial areas, its assertion of creating new clusters may not prove well grounded. Clusters cannot be created; they grow organically. The report is absolutely correct in observing that the government should nurture functioning clusters with demand-based inputs and that modern industrial townships should now be developed for MSMEs complete with industrial areas, common facilities and social infrastructure.
The report also advocates a fund of Rs 1,500 crore for promotion of clean technology initiatives of other ministries. Detailed planning in cooperation with the beneficiaries may be required to make it effective. However, it is rather intriguing to see the report push a narrow agenda of a handful of public institutions. The temptation could well have been avoided.
While the report highlights the need for setting up the SME exchange, finding a workable legal option for factoring, forming LLPs/ single person companies and simplifying labour laws and reducing their compliance cost, the big ticket push is for evolving a model insolvency Act that replaces the current dysfunctional insolvency mechanism for MSMEs. The model act is expected to put in place a specialised quasi-judicial body to appraise viability and set up time-bound revival/closure plans.
The proposal to set up a Prime Ministers council to review the progress of the recommendations is another important initiative.
Experts could term the report as one strong on tactical elements and weak on strategy. A report of this nature has to be strong on the strategy to be a guiding document for the promotional and regulatory machinery. Barring insolvency, the report shies away from suggesting a clear course for reforms, from the MSME perspective, in labour laws, financial sector and functioning of other factor markets. The challenge of competitiveness that MSMEs face vis-a vis imports and large corporate sector requires a more nuanced and strategic approach.
Nevertheless, in all fairness, the report is path-breaking in more sense than one. It has taken the MSME issues to the highest level: the PMO. It was needed for resolution of issues that are inter-ministerial (for example insolvency) or related to powerful ministries (for example finance). The report contains several specific, action-oriented and time-bound measures that will positively impact the sector over the years. We can hope to see some action at last.
The writer is secretary-general, the Federation of Indian Micro and Small & Medium Enterprises