With drought looming large over Maharashtra, the countrys biggest sugarcane producer, the Commission for Agricultural Costs and Prices (CACP) has painted a grim picture of water availability in the state unless the major part of cultivation shifts to drip irrigation and there is development of varieties that use less water.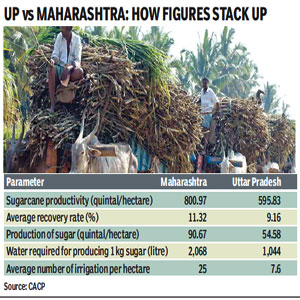 In a report titled Price policy of sugarcane 2013-14 season, CACP has said that the future growth of cane in Maharashtra is likely to be severely hampered by scarce water supplies unless much of sugarcane is put on drip irrigation or varieties are evolved that use less water.
Stating that western Maharashtra, the key sugarcane-growing region, is not naturally endowed with water, the report notes that sugarcane cultivation, which is on about 3% of the total cropped area of the state, uses close to 60% of the irrigation water, leading to massive inequity in the use of water within the state. Agriculture minister Sharad Pawar recently said the countrys sugar output would decline to 24.5 million tonne (mt) in 2013-14 because of a second consecutive year of poor rains in Maharashtra. Industry estimates say that sugar production in the state may decline to around 5 mt in 2013-14 from current years 7 mt.
In case of Uttar Pradesh, the second-biggest sugar producer, CACPs analysis of three parameters productivity of sugarcane, recovery rate and water consumption reveals that the northern state is 106% more efficient than Maharashtra if productivity is measured on the basis of water consumed, after duly adjusting for crop duration and recovery rates.
Maharashtra consumes an additional 1,000 litre for every kilogram of sugar produced in comparison to Uttar Pradesh, CACP has observed.
The CACP study also found out that bringing irrigation water through major and medium irrigation schemes, or through borewells in states such as Maharashtra, costs more than two to three times than in eastern UP and Bihar.
Calling eastern UP and Bihar the seat of sugarcane before the onset of the licensing regime, after which licences were given on priority to cooperatives, the commission observed that the two states would turn out to be the most efficient producers of sugar per unit cost of water adjusted for time duration and recovery.
The future holds enormous potential for eastern Uttar Pradesh and Bihar, provided we get our water-pricing policies right and create an environment of investments in these two states. This is what will give India a competitive edge globally and in a sustainable manner, the commission said in the report.
This CACP analysis comes at a time when the International Water Resources Group has projected that India will be 50% short of water by 2030. Given that sugarcane is a water-intensive crop, its long-term development must ensure that it is line with the availability of sufficient water and its cost, the report said.