Top sweets consumers: Gurgaon followed by Delhi, Pune and Bengaluru.
Foodpanda.in, the online food ordering platform, recently conducted a survey across India to comprehend sweets consumption trends during the festive season. This survey throws light on the sweet consumption preferences during the month of October as compared to other months.
Surprisingly, Gurgaon despite being hailed as the most health conscious city in India ranks first when it comes to gorging on traditional sweets, followed by Delhi, Pune and Bengaluru.
Overall sweet consumption is however found to be the highest in the tech city of Bengaluru with a distinct preference for western sweets.
The survey was made on the basis of two verticals i.e. Traditional Sweet Consumption and Overall Sweet Consumption.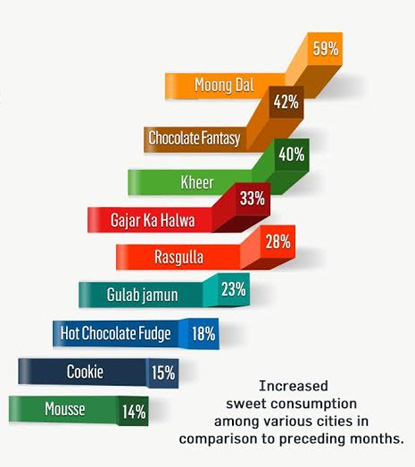 As per the analysis, a 20 per cent spurt is observed in people indulging in sweet delicacies panIndia during the festive season, as compared to preceding months. Gurgaons upsurged indulgence in conventional sweets can be attributed to the fact that a major chunk of the metropolis population comprises young employees working in leading MNCs who travel back home especially during the festive season.
This is incidentally also the time when Gurgaons local residents find lipsmacking festive sweets simply irresistible. Moong Dal Halwa emerges as the favourite sweet delicacy of Gurgaon customers followed by Gulab Jamun and Kheer.
Rohit Chadda, MD and founder, foodpanda.in said, Any festival is incomplete without sweets.
Especially during the festival of Diwali, people make merry by indulging in a variegated spread of sweet delights, be it traditional or western. We thought it would be interesting to give people a gist of the sweet consumption trends in the country and hence conducted this survey.
Apart from this, Bengaluru ranks first on the Overall Sweet Consumption table, followed by Mumbai, Delhi and Gurgaon, owing to its citizens being inclined towards mouthwatering and chocwrapped western sweets like chocolate mousse, chocolate truffle cake and chocolate fantasy cake.
Foodpandas survey highlights that although traditional sweets are most cherished by people during the festive season, the tempting western sweets are no less in tickling the taste buds and rendering a festive feeling. Hence the preference for such sweets is gradually growing.