We love our SUVs in all shapes and sizes, and carmakers have acknowledged this fact. Theres a slew of all-new SUVs and refreshed versions of existing SUVs headed your way soon:
* Maruti Suzuki S-Cross
PRICES STARTING FROM: Rs 10-11 lakh
Engine: 1.6-litre diesel, 1.6-litre petrol
The S-Cross, which should make its way to India in the latter half of 2014, will be pitched at those looking for an good blend of an SUV and a car. The S-Cross is an evolution of the European SX4, but is built on a longer wheelbase. The long bonnet, steeply raked windscreen and long roof that drops coup-like to the rear give the S-Cross very good flow in terms of design, and Suzuki has added body cladding and roof rails to give it a more SUV-ish appearance.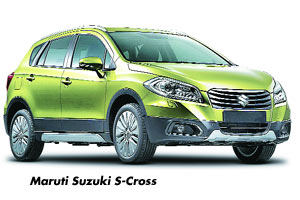 The interiors are wide and spacious, and a lot of bits will most probably be shared with the Swift. Were not certain where Suzuki will position the SUV, but were guessing it will be somewhere between the Ford EcoSport and Renault Duster.
* Honda Brio SUV
PRICES STARTING FROM: Rs 6-9 lakh
Engine: 1.2-litre petrol, 1.5-litre diesel
Hondas compact SUV the Vezel, which was showcased at the Tokyo motor show, will unfortunately not make its way to India. Pricing the SUV in Ford EcoSport territory is difficult. But the good news is that Honda, after re-evaluating its strategy for India, has decided instead to develop a compact SUV on the Brio platform. Honda has already stretched this platform to make the Mobilio MPV, but the platform wasnt designed for an SUV, so Honda will have to modify the wheel wells to accommodate larger SUV tyres. Whats unclear right now though is whether Honda will be able to design the SUV such that it ducks under the four-metre mark to avail of tax benefits.
* Mahindra Compact SUV
PRICES STARTING FROM: Rs 5 lakh
Engine: 1.5-litre diesel
The Quanto may not have lived up to Mahindras expectations, but theres a new compact SUV that the carmaker is working on. Codenamed S101, the compact SUV will join Mahindras three other compact offerings.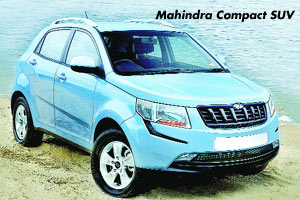 The S101 is built on a new, car-like monocoque platform. The wide front bumper, the flared wheel arches and the high grille have ensured that the S101 has plenty of visual bulk. Mahindras unique positioning of the S101 is also apparent when you get inside the car. Unlike most conventional cars that have two bucket seats up front, the S101 has a single drivers seat with a wide two-seat passenger bench sat alongside (similar to the front seats on the Datsun Go).
* * Mahindra Scorpio facelift
PRICES STARTING FROM: Rs 8-11 lakh
Engine: 2.2-litre diesel, 2.5-litre diesel
M&M will launch the facelifted Scorpio in 2014. The new car features cosmetic upgrades to the front and rear, although the side panels are expected to be carried over from the current SUV. The interiors will also be upgraded to offer more spacethe main grouse of Scorpio customers has been the lack of legroom in the second row. The wheelbase wont be increased for this version. Over a decade has passed since the Scorpio was first launched in India, and though it is still popular among buyers, Mahindra expects that a makeover will enhance its appeal. The new-look Scorpio will not receive any mechanical upgrades and the engine options will continue.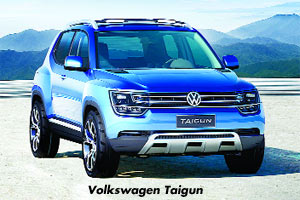 * Volkswagen Taigun
PRICES STARTING FROM: Rs 6-7 lakh
Engine: 1.0-litre petrol, 1.5-litre diesel
This will be the first car built on Volkswagens Up platform that will make its way to India. The Taigun concept shown at the Sao Paolo motor show ducks under the crucial four-metre mark and will be powered by a 108 bhp, three-cylinder, turbocharged 1.0-litre petrol engine. The engine bay of the Up is currently not wide enough to accommodate a four-cylinder engine, but it could be modified to receive the new 1.5-litre, four-cylinder diesel that VW is developing for India.
There will also be no four-wheel-drive option on the Taigun, as the platform its designed on is exclusively for front-wheel-drive cars. The Taigun could be Volkswagens first proper rival to the likes of Fords EcoSport.
* Hyundai compact SUV
PRICES STARTING FROM: Rs 8-10 lakh
Engine: 1.6-litre diesel, 1.5-litre petrol
The compact SUV segment of our car market is one that every manufacturer wants to sink its teeth into. While overall automobile sales have declined massively, this segment continues to witness sales of around 11,000 units a month. Hyundai is currently developing a compact SUV that is expected to be launched in 2015. The compact SUV will be based on an all-new platform (codenamed GC) and will be the first vehicle from Hyundais stable to carry an India-specific name.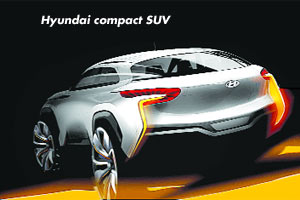 Hyundais compact SUV is unlikely to duck under the crucial four-metre mark to avail of tax benefits though. The good news is Hyundai is looking to price this new car quite competitively, at under Rs 10 lakh.
* Skoda Yeti facelift
PRICES STARTING FROM: Rs 12-16 lakh
Engine: 1.4-litre petrol, 2.0-litre diesel
The upgraded Skoda Yeti will only come with cosmetic changes on the exterior and interior. The 2.0-litre diesel engine will be carried over from the existing Yeti, although it might also get the Octavias 1.4-litre TSI petrol. The most noticeable change on the outside is the front grille which incorporates Skodas new design language, similar to the European Rapid and the new Octavia. The headlamps are more squarish and the signature round fog lamps have made way for sleeker, more aggressive units. The bonnet is new. The updated Yeti comes in two variantsCity and Outdoor. We are likely to get only the latter in India, which gets black plastic cladding to give it a rugged look.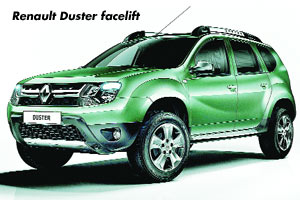 * Renault Duster facelift
PRICES STARTING FROM: Rs 8-12 lakh
Engine: 1.6-litre petrol, 1.5-litre diesel
Renault unveiled the upgraded Duster at the 2013 Frankfurt motor show and will launch it in India soon. Launched in July 2012, the Duster was a game-changer for Renault in India. But with the arrival of fresh competition from the likes of the EcoSport and Terrano, compact SUV buyers had more options to choose from. With the upgraded Duster, Renault aims to enhance the appeal of its compact SUV and bring it back into contention. The new additions to the Duster include a redesigned front grille with two chrome-plated strips and double-optic headlights with daytime running lamps. It gets new tail-lamps, a chrome exhaust tip, a more aggressive grille and a chrome-plated logo. There are new 16-inch alloy wheels as well.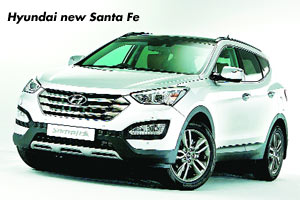 * Hyundai new Santa Fe
PRICES STARTING FROM: Rs 26 lakh
Engine: 2.2-litre diesel
If there ever as a car that looked generations ahead of its predecessor, its the new Santa Fe. Its styled on a more aggressive evolution of the companys Fluidic Sculpture design language called Storm Edge. The new Santa Fe is attractive from any angle, with neatly sculpted lines and cuts and creases in all the right places. Quality levels on the inside are some of the best weve seen from Hyundai yet, its got a well laid out dash and is loaded with equipment. It will be powered by the same excellent 2.2-litre diesel engine as the current car, but Hyundai has worked extensively on improving the levels of refinement. It will pitted against Toyotas Fortuner.