Accreditation of hospitals, together with privatisation of medical education, is critical to the sustained growth of the healthcare industry. To add to the challenges that the industry already faces, it now also has to deal with a significant shortage of doctors, nurses and paramedical staff. These and other related findings are part of a recent report, Sustaining and Growing, a survey of hospital CEOs in India, by Accelerator Group LLC.
The report stated that building hospitals without mandatory catchment area requirements will lead to an uneven development of healthcare delivery infrastructure. It was also said that affordability of the high cost of technology by healthcare consumers will necessitate significant adaptations to technology in the context of Indian markets. This is especially important in light of the escalating costs of material and equipment.
Hospitals today face limitations due to a number of bureaucratic hurdles in securing clearances for setting up new facilities. Other government policies that hinder growth, according to the study, are a lack of a consistent policy on accreditation of healthcare delivery institutions, arcane rules that prohibit the participation of the private sector in owning and operating medical and paramedical educational institutions and a lack of health statistics which could promote the planning of facilities and low government budget allocation to healthcare.
The study highlighted the extremely high level of optimism among all the participants, with respondents sharing a bright view of the growth potential of the industry in the medium and long term. However, in the short term, 60% of respondents were very bullish, while 40% indicated a medium level of optimism.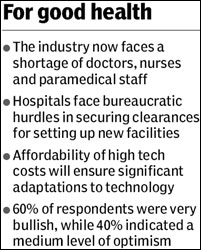 Despite the high capital intensity of the industry, most respondents plan a significant scale-up of the delivery infrastructure. This is expected to come from both greenfield and brownfield expansions. A key issue in seeking capital for the expansion plans are the commercial terms that are extended by most commercial banks, since hospitals are perceived to be a part of the ?real estate industry?, as opposed to being part of the ?infrastructure industry.?
Respondents from the private sector also underscored the substantial benefits of encouraging a strong public-private partnership (PPP) model for healthcare delivery and education as a powerful mechanism to improve healthcare delivery. An improved awareness of diseases and prevention, mandatory accreditation of hospitals, and provision of a grading mechanism to rank hospital facilities, were cited as policies that can further consolidate healthcare delivery. The study also said that focus on improving the productivity of employees is an important cost-containment measure. As a part of understanding best practices in recruitment and retention, the respondents highlighted the need for the ongoing training and professional develo-pment to be significantly more important than compensation.
Accelerator Group conducted the study through a survey of CEOs, chief strategy officers and senior management teams of 50 hospitals in India, including industry leaders like Max Healthcare, Fortis Healthcare Limited, Global Hospitals Group.